I suppose it's every business owner's dream to have customers lined up outside the door or thousands of visitors constantly clicking the "Buy Now" button. And, I guess that does happen sometimes, but not nearly as often as most companies would like. However, in reality, few companies have customers falling into line like Starbucks or McDonalds does.
When you see companies with large numbers of customers, it often tends to make you wonder how the business does it. I mean, what are they doing that is so right to make them so much more popular and busier than other companies?Well, according to Entrepreneur Magazine (and many others for that fact), the secret is loyal and repeat customers.
So, in this post, I will cover some fairly straightforward ways your company and its live chat agents can increase both repeat customers and brand awareness.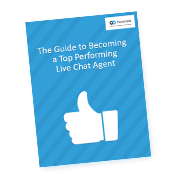 [Free Download] The Guide to Becoming a Top Performing Live Chat Agent
Quality customer service is essential to increasing your customer loyalty. This eBook contains 12 essential tips for live chat agents to communicating effectively, addressing customer issues efficiently, and representing your brand professionally.
Download Free
Reward Loyalty
Everywhere you look on the Internet (or in the brick-and-mortar world for that matter) you see ads that say "New Customer Discount," "For New Subscribers Only" or something similar.
Why is that, though? I mean ads for new customers are certainly necessary, but why would you offer discounts or rewards only to new customers and forget your most important asset – your current customers.
I mean, people that view "new customers" ads or promotions might or might not buy from your company. But, if you offer discounts or rewards to those satisfied customers who have already made a purchase, the chances of a repeat sale are much, much higher.
When current customers return to your site and chat with an agent, why not occasionally offer a discount or even a freebie to encourage loyalty and repeat purchases (especially if they are having problems with your products or services).
Better yet, create a "loyalty rewards" program that rewards customers for every purchase and have your live chat agents promote it during chat sessions.
According to a CMS Wire report, the value of repeat customers cannot be overemphasized. The report shows that companies that achieve a 40% level of repeat business generate nearly 50% more in revenues than companies with only 10% repeat buyer levels. Wow. That's some difference.
Brand Recall Reminders
Whether it's a new customer, a visitor to your website or a customer that needs support, your live chat agents should be reminding them all of your brand during chat sessions and follow up emails.
If a new customer makes a purchase, make sure to follow up and thank them while displaying your brand prominently in the message. When an agent chats with a visitor, ensure that they try to get an email address so that you can send follow up messages and keep your brand in the minds of those that visited your website.
There are many ways to keep your brand in the minds of customers and visitors. Be sure to check out our blog post on best practices for follow-up emails for more information on how to keep your brand recall high with visitors and customers.
Offer Choices
Most consumers quickly recognize the difference between Toyota cars or those with the Lexus name. The same applies to Volkswagen and Lamborghini; few people confuse the two brands. Did you know, though, that Toyota actually owns the Lexus brand and Lamborghini is a part of the Volkswagen company?
Many companies tend to believe that keeping customer choices for products and services makes it simpler and easier to do business. However, a Harvard Business Review study shows that companies that offered choices to their customers performed better than those that do not.
Offering customers choices doesn't just mean offering different colors or variants; it also means giving customers choices concerning how they buy your products and how they receive them. To prove the point, the study shows Amazon not only gives customers many choices for sizes, colors, etc., but also gives various payment and shipping options to its customers.
Train your live chat agents to mention multiple payment and shipping options to customers as well as different models or brands you might carry. If you carry budget and premium brands, train your agents on the differences so they can upsell when opportunities arise. Not mentioning the advantages of premium lines or brands only reduces your potential profits.
Consistency Reduces Churn
Churn is something you definitely don't want for your business, but something about which you must be well informed. Churn is the term for the phenomena that occurs when customers cease to use a company's products or services. Or, in short, when the customer no longer associates or does business with your company. Not a pleasant thought; I know.
Most of the time, people think churn is caused by poor quality products or services, and I am sure this is the case sometimes. However, the main cause of churn is poor customer service. Consequently, good, consistent customer service is essential if you want customers to buy (and continue to buy) your products and services.
Train your agents to be caring and attentive at all times when chatting with or supporting customers and visitors. A good agent that provides quality service will cause customers and visitors to "brag" about your great support to others and encourage "word of mouth" advertising (the holy grail in business.)
On the other hand, bad customer service will also lead to "word of mouth" – just not the kind you want. Dissatisfied customers will post on social media and tell friends and relatives never to buy from you. If you want to avoid churn and a bad reputation, make sure your agents provide quality customer service all the time.
Read more: 5 Ways to Make Sure Your Live Chat Support Is Consistent
Make Your Customers Feel Special
Nothing makes a customer more loyal than making him/her feel special. In Robert Cialdini's widely acclaimed book "Influence: The Psychology of Persuasion," he writes that when a customer feels valued by a company or brand, that he/she feels special and reciprocates with loyalty.
A loyal customer who feels special will tell others about your company and your products or services. Therefore, simply providing the product or service is not enough; your company must also make the customer feel appreciated and special.
A simple "thank you" in a chat session or follow-up email can do wonders to show the customer that you value them and look forward to serving them again. Personalization in this regard is essential. Therefore, when your live chat agents communicate with customers, make sure they extend a quick "thank you" for past purchases (and make sure they have that kind of data available to them.)
An Internet Retailer report and survey states that 82% of online shoppers say they would "buy more" from companies and brands that personalize communications. Therefore, if you're not using the pre-chat survey feature of your live chat application to get this type of data, you may want to consider enabling it so you can address your customers and visitors by name during chat sessions.
[Free Download] How to Deal with Difficult Customers over Live Chat
It requires much more efforts to turn a difficult customer around and make them repeat customers. Download this eBook to develop your own live support strategy on how to prevent, deal with, and follow up on difficult customers.
Download Now