Take a moment to think about your customer service staff and how you utilize them in the call center or for email customer service inquiries. Chances are that, within your customer service team, there are staff members who are better at one type of inquiry than at another. You may even have your customer service or sales representatives broken up into teams so that groups of employees can be specialized in one area. However, despite the fact that most customer service or sales departments have either teams or individuals who are specialized, most live chat requests are sent to a group pool in the majority of service or sales departments.
[Free Training] Live Chat & Customer Service Certification
This free training features up-to-date customer service best practices, to help you boost your skills and become a true customer service professional.
Sign up Free
Group Your Live Chat Agents Based on Skill Sets
Comm100's routing options allows you to tailor your live chat request routing in the same way that you would tailor call center or email routing. When your customers visit your website with issues or questions, the routing features will allow you to distribute their chat requests to a defined department.
For example, if you sell jewelry, you may want live chat for website requests that originate from a page that features engagement rings to go directly to an agent who specializes in wedding jewelry. With the Department feature, you can.
Absolute Control Means to Mixed Customer Messages
You won't need to worry at all that your messages get inadvertently sent to the wrong person or department. Once your live chat button is encoded to route chat requests to a specific department or individual, the live chat button only appears on the webpage when that agent or department is logged on and active in the system and available to take the chat request. That means that you'll never have a specialized chat request go to the wrong person or team, resulting in a confusing or muddled message to your customer. However, your customer still has the flexibility to choose a specific department request in the pre-chat window if he or she chooses to do so.This means that if a customer clicks a chat button on a specific page but actually needed help with a more generalized issue, he or she can still send themselves directly to the appropriate department.
The Department feature enables you to control what information and message gets presented to your customer and from what specialist or specialized team. You still allow customers to take advantage of self-guided options for unique service needs, however.
What Your Customers and Your Company Can Benefit from Department
The more specialized and personalized you can make your service, the better your customers will respond and the more you'll see improvement in your bottom line numbers. Benefits to your customers include:
Higher Quality of Information: Put simply, when you provide a user with a specialist in the area that they are inquiring about, the customer receives better service with a higher quality of information.
Faster Resolutions: When a customer deals with a specialist, that specialist can identify and solve problems faster and more efficiently than a generalist would.
Benefits to your company include:
Easy Integration of Live Chat Best Practices: In study after study, agent skill set is the defining factor of successful live chat. The Department  feature allows you to put the best agents in the best position to succeed.
Improved Customer Satisfaction and Word of Mouth: Better, more targeted customer service means more satisfied customers, who then tell others how satisfied they are.
Reduced Training Time: Instead of having to train your entire customer service or sales staff on every potential issue, you're freed to train only specific segments and teams on specialized requests.
Improved ROI: As you improve your Live Chat performance, you'll ultimately see improved ROI and improved conversions overall.
Possible Scenarios
How you use the Comm100 Live Chat Department feature will, of course, be specific to your industry or company needs. However, some common uses include:
Route Chats by Product Departments: Such as in the example with the jewelry website above, if you have product or service segments of your business that require a specialist with specific knowledge, routing your chats accordingly can improve overall customer service.
Route Chats by Customer Activity: If a customer has a question about billing, you don't want to send them to a customer service team that specializes in returns. The Department feature can reduce the number of times a customer may be transferred between departments.
Route Chats by Customer Status: 20% of your customers account for 80% of your revenue. Make sure that your VIP customers are going to your most skilled agents.
The Comm100 Live Chat Department feature can take your live chat organization and structure to new levels of efficiency.
Want to put this great feature to work for you,  Sign up for Comm100 Live Chat now!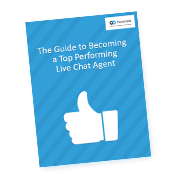 [Free Download] The Guide to Becoming a Top Performing Live Chat Agent
No matter what your customer service channel is, top performing agents always receive high customer satisfaction rate. Here is a practical guide for live chat agents to communicating effectively, addressing customer issues efficiently, and representing your brand professionally.
Download Now