It is widely known that live chat can provide a business with quite a lot of benefits such as improving conversion and enhancing customer satisfaction.
But there can be no conversion if your website chat volume is low, meaning that you have very few website visitors willing to chat with you.
We are asked from time to time by customers how to improve chat volume on their websites. Often they see many visiting their websites but very few visitors choose to chat. Why is that? Here we give some possible reasons. Find your answer and better leverage your live chat.
Make Chat Buttons Visible
Think about the position you put your chat button first. Have you put the button in the right position to attract visual attention? The truth might be your website visitors don't even know they can initiate a real time chat with you.
Think further about your chat button color and style. Is it prominent enough? We believe that chat buttons of bright color and consistent style with your website will make your visitors feel you are professional thus more comfortable to start chatting with you.
Basically you can place your chat button anywhere you want. Be sure to test the position and find a perfect one that suits your visitors. You might as well launch a little testing project for a month or two to check which position can be found by the most visitors. In addition, you can customize your chat button to make it noticeable to your website visitors.
Place a Chat Button on Each Page If Necessary
In most cases you have more than one page or even more than one site for your products or services. Take Comm100. We have one website which includes multiple pages to introduce our products and another website exclusively for logged-in users. That being said, you can place different chat buttons for different pages.
If you place only one chat button on the home page, then visitors on other pages have to go back to the page with chat button on it to start chatting with you. I won't do this myself, will you? If you don't place chat buttons on the pages for logged-in users, then they can go nowhere to ask for help when encountering problems thus lowering the customer satisfaction.
So the wise thing to do is to put a chat button on every page you have to make sure your website visitors and product users can get help whenever and wherever they need it. You get to choose specific buttons for different sections of your website if necessary. Does that cost you any extra money? Absolutely no with Comm100 Live Chat. Plus, chats from all pages can be handled in one place with your chatting interface. Sounds good, isn't it? Just try it.
Proactively Invite Visitors to Chat with You
Looking into your statistics, you may find some visitors:
Leave your website after staying on the pricing/promotion page for 30 seconds
Exit the check-out page after adding items to their shopping carts
Bounce from the sign-up page after landing in
Don't let sales opportunities slip through your fingers. Trust me they definitely need your help because they have run into problems and with a little bit change, you can turn them around. Proactively invite them to chat with you. Set conditions that you think are necessary to send chat invitations to visitors and let it be done automatically. You can easily do that by enabling auto invitation in Comm100 Live Chat.
One thing worth your attention regarding auto invitation: there is a line between annoyance and being ignored. Be sure to test the conditions as many times as possible to find the balancing point.
[Free Download] 120+ Ready-to-Use Live Chat Scripts for Both Sales and Customer Service
When inviting visitors to chat, make sure your phrasing is just what they want to see. Our customer service scripts template provides some ready-to-use proactive chat scripts for your reference.
Download Now
Make Sure Your Live Chat Software Works Brilliantly on Mobile Devices
Look into your Google Analytics report or any other statistics you might be using and you may find that mobile users account for an increasingly high proportion of your overall website visitors. Mobile devices have replaced PCs to be the dominant tool for people to search for information and make purchases. What I am saying is that you are expecting more and more mobile visitors.
I am sure you have paid great attention to making your website outstanding and professional. Don't limit your efforts to PCs. As you can see, mobile users just leave your websites due to poor design and bad user experiences.
Do let your live chat mobile friendly and make sure your live chat button can fit mobile devices perfectly in size and style. You can easily do that by enabling the feature in Comm100 Live Chat.
Engage with Visitors while You Are on the Go
For any maturing organization, meeting and training are inevitable and significant for progress. Plus, you work for 8 hours but visitors come any time in 24 hours. So you have to leave your desk sometimes and usually for quite some time and it is easy to miss chat requests from your website visitors while you are away.
Here are two ways out. One is to pay close attention to your website traffic and try your best to find out peak and off-peak time period during a day if possible. The other is to use our marvelous mobile APPs to keep you alert anytime and anywhere in need. Whether you are using an iOS or Android mobile device, there is an option for you.
By constant testing, you are able to know your visitors well enough to make informed decision on what action to take. Keep trying one step at a time and you will have more and more chats.
Welcome to share with us your experiences and insights on it. Just leave a comment and do others good.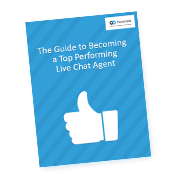 [Free Download] The Guide to Becoming a Top Performing Live Chat Agent
Well-trained agents mean better customer satisfaction, which can increase chat volume on your website. Here we offer 12 essential tips for live chat agents to communicating effectively, addressing customer issues efficiently, and representing your brand professionally.
Download Free