Knowing when to say no to customers is a crucial part of knowing how to say no to customers. Here are some scenarios that will help you create guidelines for your business on when it is appropriate, or even to your advantage, to tell customers no.
Saying No to a Refund
Having a sound refund policy helps keep employees and customers on the same page, and can provide your company protection against theft and loss. But sometimes, customers make requests that go against company policy. They may demand a refund on an item without proof of purchase, or ask to get their money back on a pair of shoes that have already been worn for 3 months.
When deciding whether to say no to a refund, follow these three practical steps:
Check your company's refund policy.

Consider: What is your company's refund policy? Does the customer's request for a refund meet the guidelines established by company policy? And if not, is there room for leeway?

Think about the possibility of saying yes.

Consider: Is saying yes sustainable? Would you be able to fulfill this request consistently were another customer to make it?

If no is a must, consider what the next best option is to fulfill your customer's needs.

Consider: What is their reason for asking for a refund? Can you say no to the refund, and yes to something else? Can you offer the customer an exchange or store credit?
If you know that you need say no to a customer after following these steps, practice being empathetic but resolute in your response. By using your decision to inform how your company handles similar situations in the future, you will create consistency in your customer service, and will help keep customers from feeling like your company practices are unfair.
Here is an example of how you might say no to a customer who is asking for a refund that you cannot give them:
Hi Sheila,
I'm very sorry that you were unhappy with our product.
Unfortunately, our return policy allows for all merchandise to be returned up to 90 days after purchase, in like-new condition. Since your item shows signs of heavy use, we will not be able to refund you. Here is the link to our refund policy in case you need to reference it in the future: [INSERT LINK].
I can, however, provide you with in-store credit at 20% off the initial value of your item. Please let me know how you would like to proceed.
Thank you,
Emily
Customer Service Supervisor
Avoid the No: Make sure your company has a clear refund policy that is easy to access on your website, and if you have one, in your store. This way, if your customers need to ask for a refund, they are more likely to make their requests within the parameters of what your company allows. The result is you having to say no less often, and greater customer contentment.
Saying No to a Discount
No matter who your customers are, chances are they love a good discount. According to independent marketing research firm, the A.C. Nielson Co., 95% of all shoppers like coupons, and 60% actively look for coupons. In general, it's good to facilitate your customers' use of coupons.
Even so, you can't always comply with the discount that your customer is asking for. Exercise your right to say no to a customer when these situations take place:
Your customer asks for a discount that does not exist.
Your customer asks if you can get them a "better" discount.
Your customer asks for free merchandise.
Your customer asks to use a coupon that is inactive or expired.
Your customer asks to use a coupon that is from a third-party website.
When your customers ask for a discount that you just can't give them, try and offer them the next best thing. By keeping your "no" as positive and as helpful as you can, you will renew customer confidence, and keep them coming back.
Here is an example of how you might respond to a customer when you need to say no to a discount:
Hi Chris,
Thank you for contacting us! I'm very sorry, but we will not be able to honor your discount request.
Unfortunately, the coupon code that you provided for 50% off one item is from over a year ago, and is no longer active in our system. Our coupons are typically valid for 30 days after they are issued. If you are ever unsure of whether a coupon is valid, you can check the dates of validity, which are printed on the bottom.
I have attached a current holiday coupon to this email – it is valid for 30% off your entire purchase from now through the 30th of December. Just enter the code HOLIDAY30 at the checkout, or bring the coupon in to one of our locations.
You can find future promotions on our website at [INSERT LINK], or you can join our mailing list if you would like us to send you offers. Please let me know if you would like me to add your information to our list.
Best regards,
David
Customer Service Representative
Avoid the No: Make sure that your coupons and promotional material have a clear expiration date. Keep your email marketing design as clean and as straight forward as possible, and make your active offers easy to find on your website and social media. Be clear as far as what promotions are available online only, and make coupons easily printable when promotions are available in store, if you have one. This will not only help de-clutter your inbox with customer questions and requests, but will also ease the process of in-store checkout.
Saying No to a Special Request
Sometimes customers make special requests that you can't possibly comply with, no matter how much you may want to. The following scenarios are likely to require a "no" as a response:
Your customer asks to have something specially shipped (such as faster than what is available, or with an alternative mail service).
Your customer asks for a product in a certain color, size, or another option that does not exist.
Your customer asks for an item that is currently or indefinitely out of stock.
Your customer requests a service or feature that is not currently available.
Your customer request a service or feature that you may never offer.
Your customer's special request is too time or resource consuming, and is not something that you could provide all future customers.
If in denying your customer's special request you are complying with company policy, be sure to emphasize how enforcing company policy still works to the customer's advantage. If you explain how your policies benefit your customer and not just your business, then your customer will be more receptive and understanding of your reasons for telling them no.
Here is an example of how you might interact with a customer who makes a special request that you cannot fulfill:
Elise: Hello and welcome to Live Chat Support! My name is Elise. How can I help you today?
Marcos: Hi Elise. I wanted to order some photos of my son's graduation from your company, but I don't like the way that some of his hair is sticking out from under his cap. Is there any way that you could Photoshop out that piece of hair?
Elise: I'm sorry, Marcos, but unfortunately we don't provide custom touch-ups to the photos that we offer. This is so that we can make sure that all our customers receive their prints in a timely manner.
Marcos: Oh…O.K.
Elise: I may have a solution for you: if you are interested in finding a third-party photo editor, you can choose the option of buying a digital download of your photo for $29.99. That way you can edit the image in any way that you would like, and you are free to print it as many times as you want.
Marcos: That might work.
Elise: Great, I'm glad! Is there anything else that I can assist you with today?
Marcos: No, that's it. Thanks.
Elise: No problem. Thank you for contacting us, and have a great day!
Avoid the No: Keep your website up to date – if an item is out of stock, make sure that that is reflected by your website before a customer places an order. This will help you avoid having to tell your customer that you cannot deliver what was promised. Update your company blog and social media account with all policies, changes to inventory, features, offerings, etc. to act as a preventative measure. It is impossible to predict all requests that customers might throw your way, but by keeping certain restrictions clear, you can do your part in making sure that your company and your customers are on the same page.
Conclusion
There can be a lot of gray area when it comes to when to say no to customers. On one hand, making exceptions to the rule for a customer's sake can leave an exceptional impression of your company's service. On the other, constantly making exceptions to rules that are intended to protect your business can have unintended consequences, and might do more harm than good. By reflecting on these scenarios, you can help define what works for your company, and guide your customer service team into knowing when to say no, not just how to say it.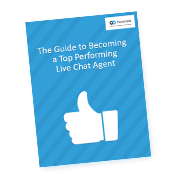 [White Paper] The Guide to Becoming a Top Performing Live Chat Agent
Better communication allows you to help customers set right expectations, which is an essential skill for agents to be top performing. Here we offer 12 essential tips for live chat agents to communicating effectively, addressing customer issues efficiently, and representing your brand professionally.
Download Free