While visitors always appreciate live chat as a means of requesting support, you can also increase conversions with live chat as it allows you to reach out proactively to visitors thus converting more shoppers into buyers.
A live chat immediately changes consumer perception. It grants websites additional credibility and gives potential customers the peace of mind that customer service is a priority. Information seeking consumers absolutely thrive on live chat and even transactional shoppers enjoy the benefit of being able to confirm a price or feature before making a purchase.
Several major studies such as one American Marketing Association indicate that live chat can help increase conversions by 20 percent or more.
In this post, I will cover a few essentials that will enable you not only help more site visitors, but also provide more opportunities for conversions.
[Free Download] How to Choose the Best Live Chat Software: A Buyer's Guide
After reading this post, you probably have made up your mind to provide live chat support on your website. Our buyer's guide can be a great tool to save evaluation costs and help you make well informed decision on which live chat solution is the best one for your business.
Download Now
Be Open for Your Visitors
If yours is like most businesses, your office is probably open between 9AM and 5PM (or somewhere thereabout); and for a physical location, this is appropriate and indeed expected most of the time. When it comes to being open on the Internet, though, you should expect your customers and visitors to be a lot more demanding.
You should ensure that your live chat system is staffed and up and running as much as possible. Remember that potential customers are awake and using the Internet 24 hours a day. So, if possible, consider extending your live chat hours to ensure that someone is available to take live chat requests and answer questions.
Additionally, implementing a live chat platform that enables agents to chat with mobile devices can help you extend support hours considerably. A great live chat application easily lets agents support your visitors and customers from anywhere – be it from the agent's desk or his/her phone when on the road.
Ideally, someone should be available to answer live chat requests 24 hours day, but this might not be possible for your company. Remember, though, that while good live chat software lets visitors leave you messages when agents are offline, nothing helps convert more visitors into buyers than being able to assist them personally and in real time.
Use Canned Messages Wisely
Canned messages can save you a lot of time versus typing all messages or responses manually, and are one of live chat's best features. Still, you should always craft your canned messages carefully so that they don't come across as too impersonal or robotic.
While some canned messages are absolutely timely and needed (i.e. an initial greeting or when pushing links to content or downloads,) being too "robotic" with responses may put off some visitors if the canned messages are not timed well or sound too "generic".
Encourage your live chat agents to engage on a more personal level with visitors and customers to promote an atmosphere of trust and to use canned messages only when appropriate and necessary.
This type of approach makes your visitors more comfortable with conveying their wants and needs and helps to build your company's customer service image.
Recommended for you: 5 Ways to Get the Most Out of Canned Messages
Use Pre-Chat Surveys
Many users think that pre-chat surveys are simply for requesting basic contact information such as names and email addresses. While this is true with some platforms, better live chat applications allow you to customize pre-chat surveys so that you can route visitors to the appropriate department or a selected agent in some cases.
Customizable pre-chat surveys also let you create your own fields that you can use to gain valuable information such as special interests or other data. This data can then be used to route visitors to the person best equipped to assist or perhaps convert the visitor into a buyer or customer.
Recommended for you: Leverage the Power of Pre-Chat Survey: Tips and Best Practices
Post-Chat Ideas
Many companies that use post-chat surveys do so only to gain more insight into the performance of their agents. However, if you're using post-chat surveys to simply get a "star" rating for your agents' support service, you're really missing out on the power they afford you.
While not an option with all live chat applications, the best ones allow you tremendous flexibility in customizing post-chat forms with your own fields and questions. This type of customization enables you to offer visitors targeted content, thank them on a more personal level and even ask about ways you can improve your service or offerings. Think of post-chat surveys as another opportunity to show visitors how you deserve their business and loyalty so that new customers can be converted to repeat customers.
Recommended for you: Leverage the Power of Post-Chat Survey: Tips and Best Practices
Make Use of Auto Invitations
Most modern live chat applications support auto invitations, which allow you to send chat requests proactively without any action from visitors. Furthermore, the best live chat systems let you customize auto invitations and create rules for their use.
Auto invitations are a great tool for recognizing target visitors and engaging them – especially when agents are already busy and may not immediately be able to send out manual invitations.
Engaging visitors with your live chat application can be crucial in increasing conversion numbers. Auto invitations are a way of ensuring that every visitor has a chance to chat with your agents.
Customers are more likely to accept your invitation if the invitation messages are right to them. You can find many proactive sales scripts in our downloadable live chat scripts template.
Push Great Content to Your Visitors
Great content in the form of FAQs, How-To articles and Knowledge Base articles is a great way to provide valuable support for your current and potential customers. However, if the content is difficult to find on your website, it may never help those for who it was intended.
Even though you provide links to support or help content, not all visitors will be able to find it quickly and easily. With live chat, your agents are able to push links to valuable content to visitors directly using canned messages and links, which can saves users valuable time. This can also save your agent's time in pushing content and also provide a more professional image for your company – which can in turn help increase conversions.
Keep Your Sales Team in the Chat Loop
If yours is like most companies, you probably commit significant resources to training your support agents, and while well-trained agents perform well at providing navigation support and answering general questions about your company and products, they might not be able to close deals or sales on their own.
One way around this is to encourage agents to transfer chats to salespeople as soon as a visitor shows an interest in purchasing your products or services. However, this approach may scare off some visitors. As soon as your agent says "May I transfer you to a sales rep?", the visitor may get cold feet and leave the chat.
On the other hand, if your sales reps answer chat requests, they may be able to close more deals when motivated visitors arrive on your website. If your salespeople have time between sales calls or appointments, have them log in to your live chat system and answer a few chat requests. Use their skills to close deals from visitors obviously interested in your company or products.
Plug Your Social
Great customer service agents and live chat agents give visitors and customers that "warm, fuzzy feeling." So, when one of your agents make a visitor or customer happy with great service or support, take advantage of the moment.
After receiving good feedback for a live chat session, agents should always kindly remind visitors and customers to like your company's Facebook or Google+ page and to follow on Twitter. If your agents are not doing this, you are missing out on some serious social networking leverage.
Not nearly enough companies use live chat to promote or plug their social media accounts – even though the time you make customer or visitor happy is perfect for doing so. Encouraging happy visitors to like and comment on your social accounts is an outstanding way of promoting your brand and building trust in social communities.
Incentivize Usage
Some companies offer incentives to customers for logging onto live chat, such as coupons/discounts or free delivery.
This can benefit your business in two ways.
First, if someone claims a coupon, they're more likely to buy the actual product.
Second, you'll increase usage of the live chat function, because people will want to claim the coupon. By increasing live chat usage, we get a better idea of the questions and potential issues customers may have on our site. This allows us to continuously improve our site and increase customer happiness.
CheckMark, a company in the IT Solutions & Services industry, saw a 20% increase in new sales just by implementing Comm100 Live Chat.
Catch People at the Right Time
A live chat option that pops up at the proper time can mean the difference between a conversion and bounce.
For that reason, it's crucial to put your live chat tool at the right place in the sales funnel. Put it too early and you may not get many questions, because potential customers are still considering their options. Put it too late and you may have lost potential customers who got frustrated when their questions were not answered early on in the funnel.
So how do we find the right place – what is the right time?
The most common strategy is to open up your analytics software and find the page with the highest bounce rate. That's the hot spot. Once live chat is up and running, we can find out the exact roadblocks on the path to conversion.
Boost Direct Sales
Upselling and cross-selling in live chat relies on a professionally experienced representative. They must regularly analyze shopping trends, such as "frequently bought together items" to power upsells.
When customers ask about product quality, this is a prime opportunity for a cross-sell or even an upsell. Present both situations. Suggest a similar product or service in the same price range with better ratings, or a more expensive item with rave reviews.
The strategic selling options with live chat are endless. We can mention various discounts, bundle deals, and subscriptions that will help customers save, while turning them into a long term customer.
Recommended for you: 5 Key Guidelines for Upselling and Cross-Selling
Connect All Sales Funnels to Live Chat
Some potential customers have very complicated inquiries – something that live chat representatives are not equipped to personally solve.
To remedy this, we must link together all parts of our business with live chat representatives. That means our representatives will have the appropriate information to redirect inquiries to our specialists.
Additionally, protocols should be developed to immediately render solutions to high-priority inquiries. For example, if a shipment is lost or misleading, a representative should be able to personally administer a solution within minutes.
Collectively, live chat gives our business the ability to improve shopper satisfaction, increase conversion rates, and foster long-term, high-value customers.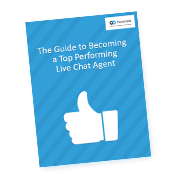 [Free Download] The Guide to Becoming a Top Performing Live Chat Agent
No matter what your customer service channel is, top performing agents always convert more visitors to buyers. Here is a practical guide for live chat agents to communicating effectively, addressing customer issues efficiently, and representing your brand professionally.
Download Now