Customer engagement software is a modern invention that takes care of a modern problem. After all, it wasn't until the rise of the internet that media became democratized, and the one-way communication model between companies and customers was shattered. From the rubble, a new dynamic emerged (the same one we know so well today): organizations spoke to customers and customers held the power to reply.
Greater consumer power brought forth a new reality for companies. Businesses that listened to and connected with customers online were rewarded with consumer engagement in the form of clicks, mentions, subscriptions and more. But how were companies to manage, track, and convert an ever-growing number of interactions into revenue? The answer for many businesses was customer engagement software.
Today, if you google 'Customer Engagement Software', you'll find that the top results are lists of the best customer engagement tools on the market. The problem is that these lists aren't composed of the top 10, or even the top 20 customer engagement platforms – Capterra's list currently features 100 platforms, and Software Advice boasts over 400.
The density of these lists isn't Capterra or Software Advice's fault. The fact is that there are many customer engagement platforms on the marketplace. The term 'customer engagement software' alone encompasses a wide variety of services, which results in pages that lump together very different types of solutions. This makes it difficult for customers to shop for the software that would be most appropriate for their business.
This blog post aims to demystify customer engagement software by identifying the kinds of engagement tools that are out there, and what these tools are good for. In doing this, we hope to make shopping for a customer engagement software solution easier and less overwhelming for our readers.
Here's a quick glance at what's included in this post:
Exploring A Broad Term: What Is Customer Engagement Software?
From customer relationship management (CRM) software to knowledge base and social media tools — it almost seems harder to find a software solution that isn't considered a customer engagement tool than one that is. As CRM thought leader, Paul Greenberg puts it: "When it comes down to it, most of the [vendors] in this market may call themselves customer engagement companies, but [they] don't compete with each other because their products are so different … There is no definition to this emerging market yet."
While there may be a wide range of vendors hitching their products to the "customer engagement" buzzword, these software solutions do share a common broader theme. Ultimately, the umbrella of customer engagement technology covers any software that helps businesses manage and/or foster customer communications and interactions (i.e. engagement). These software solutions can help organizations meet customers at any number of vital touchpoints, such as through live chat, social media, self-service, marketing, and more. Most importantly, they aim to personalize customer interactions throughout the entire customer lifecycle.
Why Is Customer Engagement Software Important?
With the popularization of the internet, customers began to transition from occupying physical to virtual spaces. This change had a huge impact on how businesses treated customer engagement, and eventually resulted in the creation of customer engagement software.
Before the internet revolution, customers occupied physical environments and played a passive role in corporate strategizing. Engagement consisted of a direct interaction between the company and its current customers – usually on the company's terms (such as when businesses reached out for input on product testing and development). With the rise of virtual environments, customers became active participants in the conversation and partners in the innovation process. Unlike physical engagement, virtual engagement prompted a continuous back-and-forth dialogue between companies, customers, and customers-to-be. This put power into the hands of the consumer, and lead businesses to focus in on the customer experience.
The beauty of virtual spaces is not only the establishment of a different, more customer-centric corporate culture: customers' footprints are now easier than ever to map and transform into revenue. Feedback is easier than ever to collect, and customer demands (although ever-growing) are becoming easier to identify and meet.
Today, companies understand the power of customer engagement. According to Gallup, there are three types of customers:
Fully Engaged — Customers who are loyal to a product, and who serve as true brand ambassadors.
Indifferent — Customers who have a neutral, "take it or leave it" attitude towards a company and their products.
Actively Disengaged — Customers with no emotional attachment to a company, who will easily switch brands and actively antagonize brands that cause them difficulties.
Engaged customers are the most profitable customers, and help companies achieve crucial business outcomes. Gallup's findings show that "a customer who is fully engaged represents an average 23% premium in terms of share of wallet, profitability, revenue, and relationship growth compared with the average customer. In stark contrast, an actively disengaged customer represents a 13% discount in those same measures."
Customer engagement tools help businesses make the most out of customer engagement by facilitating the process of tracking, stimulating, and analyzing customer behavior and sentiment. Companies can then use customer engagement data to enhance their engagement strategies, program smarter marketing automation, deliver more personalized customer service, and better meet customer needs.
It's important to note that not every piece of customer engagement software does the same thing. Some software solutions specialize in one single touchpoint or area of customer engagement — such as through social media, marketing, the company website, live chat, etc. Others may have tools that allow companies to partake in multichannel or omnichannel customer engagement. Different customer engagement tools may also address different stages of the buyer's journey, collect distinct information, and provide companies with different technology and features for interacting with and monitoring customers.
What Customer Engagement Software Tools Are There?
If there are so many types of customer engagement tools, what are they? And what makes them different? These are common types and functions of customer engagement software:
Conclusion
Thanks to technology, the way that companies and customers engage with one another will always be evolving. The good news is that with these evolutions, new tools are always on the horizon, waiting to help businesses put their best foot forward in an ever-changing market.
We hope that this introduction to customer engagement software has helped shed some light on this enormous and growing industry.
For more reading, check out our blog post, How to Set Goals & Build a Strategy to Drive Customer Experience Improvement.
What are your favorite customer engagement software tools? Let us know in the comments below!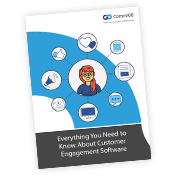 [Free Download] Everything You Need to Know About Customer Engagement Software
This eBook will help you to learn about typical software solutions, categorize them according to your needs, understand typical benefits and pitfalls, and it also comes with a handy checklist to guide your final decision.
Download Now