One often overlooked aspect of customer service is sourcing customer feedback. What many managers don't understand is that customers are often willing to give feedback to brands they have done business with and some, in fact, are eager to do so!
Many companies do not take advantage of this and end up missing out on a chance to understand what their customers really want. Companies should, in fact, make it a priority to request feedback, and then act on the input received – especially important given that there is a strong correlation between customer feedback and customer loyalty.
Let's explore why customer feedback is important and the best ways to capitalize on the feedback received.
The Importance of Customer Feedback
Customer feedback concerns the process of obtaining real-time feedback after serving customers. Apptentive (a mobile app developer) recently conducted some studies on customer feedback that involved more than 1000 customers from the U.S. The studies found out that 51% of customers expected to be asked directly for feedback from the company. Apptentive also found that 64% of customers who used their mobile app would rather leave comments and feedback on the app than being asked directly. Company behavior is however in direct contrast to these statistics, because only one in three companies bother asking customers for feedback.
What we see here is customers being more interested in giving feedback than companies are in asking for it. The best time to ask for feedback is right after performing a customer service activity. You can do this through the use of customer service surveys or even questionnaires and polls on web portals, as well as your live chat channels. Apart from identifying pain points that your customers are having with your brand, customer feedback can also be a source of innovation for ideas to improve customer service. Furthermore, customers like leaving feedback because they like feeling engaged and involved with changes at the company. Collecting and acting on customer feedback is a great way to improve business success.
How to Collect Customer Feedback
Before crafting a witty email or a comprehensive customer survey, you need to know what your goals are. One of the primary objectives of customer feedback is establishing a communication process with your customers.
Prioritizing communication with your customers gives you a lot of insight to help you create better products, experiences or improve customer service. Other managers want to collect feedback to uncover technical problems with their product. Usability tests are the best option in this case and prioritizing goals can help choose the best avenue for obtaining feedback.
Customer feedback is an excellent way of identifying how customers view your product, your customer service and your company as a whole. You can use targeted feedback to drill down into specific areas of concern – perhaps based on the launch of a new product or service – or it can be more generic and focused on your organization.
Here are some ways you can collect feedback.
Customer Contact Forms and Email Forms

When it comes to digital marketing, email has long been praised for its usefulness in collecting customer data, informing customers on offers and promotions and (by extension) improving revenue. It is easier to get candid feedback by asking customers for a response over email. You should, however, avoid doing things haphazardly since following a structured process will achieve better results. The steps to successful email feedback are:

Guarantee Customers a Swift Response

When dealing with customers who have had a bad experience, one of the critical aspects in successfully resolving the situation is ensuring that they receive timely and informative updates. The update does not necessarily have to be that the problem is solved – even an update so that the customer knows the situation is still being worked on goes a long way.

The same situation applies when it comes to requesting feedback by email. If you expect customers to tell you what they honestly think about your business, product or service, you need to ensure that their responses do not go into a black hole. Studies have shown that 43% of customers do not want to leave feedback or forward complaints because they thought the company wouldn't care. In the same group of customers, 81% confessed that they would be pleased to leave feedback if they knew they'd get a response quickly.

This means that even dissatisfied customers will leave feedback if you add a simple phrase to your emails like "We'll get back to you shortly" to assure them of prompt responses. But that phrase only works if you act on it!

Organizing Customer Feedback

This will mainly be the work of your customer support staff, although you should help by providing a system to track feedback. Consider having "customer boards" that everyone can access and update so that vital feedback is not lost.

There are many tools available, and your organization is probably already using some of them already in one format or another. Microsoft Teams, for example, is relatively new but is included with Microsoft Office. Trello or Asana are good online options, but they would require another subscription. Zoho Office also has some good free tools

Create some simple boards like "Product ideas," "Coming up" and "Roadmap" to get the ball rolling. Employees can also categorize requests by urgency, e.g., "New messages," "Rejected" for dumping requests and "Maybe" for less urgent requests. Each employee gets a feel for the priorities, roadmap and keeps tabs on new requests.

Craft Personal Emails

After the customer has filled out a contact form, most companies send an autoresponder email thanking them and perhaps asking a few further questions. The advantage with email is that it can be personalized, allowing you to send different questions to different customers.

You can ask about any issues they might be struggling with, new features they would like to see or simply ask what attracted them to sign up. Make sure you answer these emails to encourage them to provide more feedback in the future.

Back in the pre-internet days, customer feedback surveys were difficult to perform since getting effective feedback often made for lengthy surveys that customers were hesitant to complete. Selecting questions to ask was also an uphill task (although you can check out our ebook on surveys and survey questions for some hints). The internet has made surveys easier to conduct.

You can opt for short "slider" style questionnaires that appear on a customer's screen while they browse, or longer traditional surveys that are sent post-transaction. The former asks simple questions or ask customers to conduct a poll while the latter is more comprehensive and detailed.

In order to create a useful survey, you have to follow some guidelines. First, establish an end goal and only ask questions which contribute to it. The question should also be open-ended, and you should restrict yourself to one question at a time. Finally, make the rating consistent and avoid asking leading questions.

Comment boxes on your website are also a cheap and effective way of collecting feedback and complaints.
Capitalizing on Customer Feedback
As discussed, customers are more likely to leave feedback if they expect a prompt reply. Customers are willing to participate in your brand's projects, and refusing to reply to feedback denies them this opportunity. These customers do not need to be bribed with discounts and incentives since they will be happy to participate if they are respected and listened to. Listen carefully to feedback, and reply to comments to build a two-way conversation.
By listening attentively, you can start noticing patterns and discover the root cause of the problem, enabling you to improve customer experience. Also, the best strategy to capitalize on two-way communication is to ask intuitive questions (remember that you want to minimize the effort that a customer is putting in as much as possible) and responding to their answer.
Timing is Everything

Timing is crucial when asking directly for feedback. If you bombard customers with questions immediately when they walk into your establishment or click on your homepage, you might be effectively pushing them away.

You have to be less invasive when asking for feedback. One way is to ask the customer to rate your customer support right after finishing a phone call, live chat or email interaction. A quick poll while shopping online is another less invasive method. You can also observe when loyal customers return and ask them what made them come back.

Monitor Customer Behavior

A great way of utilizing feedback is observing customer behavior online. Through the use of analytics tools like Google Analytics and Heatmaps, you can point out problems in your customer's browsing experience. Heatmaps are exceptionally intuitive as they provide you with lots of excellent information and are very easy to read and understand.

For instance, you might notice that ¾ of your customers exit on a particular page, spurring you to change the setup and further down the line, increase revenue. You might find that customers exit the page before your Call To Action (CTA) or even that they are clicking on the wrong part of the page. Comments on your social media pages and being tagged in posts can also offer great insight, and with some follow-up questions, you can easily resolve a sticking point.

Customer-facing agents should be more empowered and encouraged to capture feedback that is not electronically recorded, e.g. while conversing face-to-face or over the phone. Alternatively, you can hire a third-party customer feedback team to monitor customer behavior. These professionals are more adept at collecting feedback non-intrusively and can point out problems with greater ease.
Summary
Listening to your customers pays dividends. Not only are they able to tell you about issues you might not have known, but their input can also help drive the creation of new products and services and even potentially open up new revenue streams entirely!
In the end, the customer is the only one who truly knows what they need, and their needs are almost always unique.
How has customer feedback helped your business? Let us know in the comments below.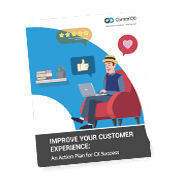 [Free Download] Improve Your Customer Experience: An Action Plan for CX Success
Improving Customer Experience (CX) is widely cited as a number 1 priority for companies in 2018 and beyond. This eBook contains best practice tips from the CX field, encompassing methodologies like Six Sigma to ensure your pathway to customer experience improvement is clear and straightforward.
Download Now