"Books are the quietest and most constant of friends; they are the most accessible and wisest of counselors, and the most patient of teachers."
– Charles W. Eliot
Sometimes we learn important customer service skills through training, or through years of hard-earned experience. But other times we can take the wisdom someone else has so carefully researched, developed, and discovered by reading a book in your free time.
For big support teams with busy professionals, however, finding the extra time to read is already a challenge. To have to shift through the numerous titles on the subject can make it an overwhelming feat. But we still want you to be able to take advantage of the books that can transform your current customer support operations. For this reason, we've compiled a list of 30 excellent customer service related books, separated by comprehensive categories so you can find exactly what you need in record time.
[Free Download] 50 Customer Service Training Activities for Live Chat and Telephone Teams
Besides the books above, we also recommend you training activities to enhance your team performance. The activities in this eBook can be great training materials to help your agents chat professionally with customers. Each activity focuses on a particular area of learning and comes with suggested debriefs. This helps your team link activities to learning and apply the learning to the workplace.
Download Now
For Support Team Leaders
If you're a support team leader, then you're at the helm of your daily support operations. For this reason, reading books that can help you gain a broader perspective on the issues you and your agents face will help you fine-tune your day-to-day operations. These are also books that can help you acquire crucial insight and skills down to pass the whole team, so everyone can benefit.
Customer Service Culture
Whether you're trying to reinvent your current customer service culture or simply enhance it, it's important to have a sense of the values you want to instill in your agents. Read these books to gain perspective on how other successful companies have delivered impressive and note-worthy customer service cultures.
Creating Customer Loyalty
On a day-to-day basis, it may seem that an agent's number one priority is primarily responsive—that is, based on fixing and addressing time-sensitive issues for customers. But the true purpose of every support team venture is to create customer loyalty. After all, customer loyalty is what will generate long-term revenue for your company. The following books will help you develop a well-rounded customer loyalty program.
Delivering Customer Satisfaction
Your customers deserve responsive customer service that gets to the core of their needs. But even when you think you're delivering the absolute best service possible, some times things fall through the cracks. Read the following to learn how to up your customer satisfaction rate.
Reinventing the Customer Experience
Your support department is responsible for delivering quality customer service, but your entire organization is responsible for the customer experience. Use these books to discover how each and every aspect of your business can be enhanced to put your customers first.
We hope these books help you enhance your organization's customer experience. What books have you read recently that you would add to this list?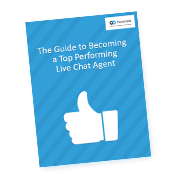 [Free Download] The Guide to Becoming a Top Performing Live Chat Agent
Top performing agents are essential to enhancing your customer experience. This eBook contains 12 essential tips for live chat agents to communicating effectively, addressing customer issues efficiently, and representing your brand professionally.
Download Free