Introduction
In 2013, Amy's Baking Company became famous overnight after premiering on a particularly dramatic episode of Gordon Ramsay's "Kitchen Nightmares" – a reality TV series that followed Ramsay's attempts to help struggling food establishments improve their business. Once a failing restaurant, Amy's Baking Company now had a flock of new customers rushing to their location in Scottsdale, Arizona, eager to check out the only establishment that the renowned chef had ever walked out on mid-episode.
With the fame came a wave of social media engagement. New customers and fans of the show posted comments and reviews of Amy's Baking Company to social media channels like Facebook, Yelp, Twitter, and Reddit. That's when the real nightmare started.
Instead of engaging in proper social media customer service, Amy's Baking Company had what the internet described as a "meltdown," unleashing a tirade of insults against their customers and critics. On their Facebook page, the restaurant dared those who were criticizing them online to come say it to their face – at the same time, they claimed that the police were going to arrest everyone who had posted a negative comment. On Reddit, they created fake accounts to try and scare their customers into believing that these supposed arrests were already happening. This over-the-top reaction generated more criticism, and attracted a growing amount of people eager to mess with the frantic business owners.
After hours of repeated threats and curses, Amy's Baking Company updated their Facebook, saying (instead of apologizing) that their social media accounts had been hacked.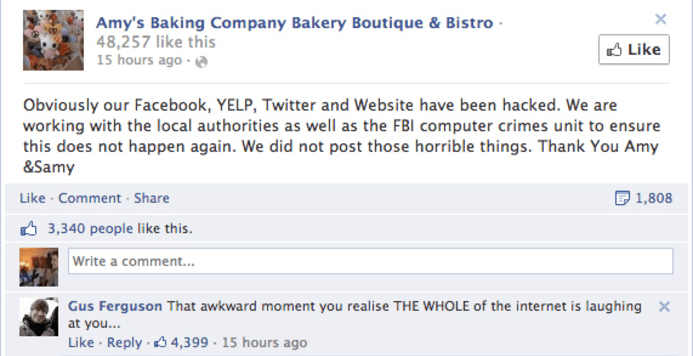 Although this case may be extreme, it isn't unique. As the years have passed, social media has brought an ever-increasing amount of empowerment to customers, and a growing set of expectations. Large corporations and small companies alike have had to either learn how to properly engage with customers over social media, or lose business as a result. This blog post will show you exactly why social media customer service is so important, and how social media support can help take your business into the future of customer care.
The blog post is included in [eBook] The Definitive Guide to Social Media Customer Service. Click here to download the full ebook.
Conclusion
After an uphill struggle of fighting their customers on and off of social media, Amy's Baking Company eventually closed their doors. They moved to California, rebranded themselves as a dessert company, and began to engage in professional social media customer service. Although the baking company may not have gotten it right at first, they eventually learned the importance of social media customer care, and taught other businesses a valuable lesson in the process.
Social media customer service is not only important: it's necessary to create a winning brand image, generate a loyal following, and most importantly, be there for your customers. Whether you're a small business, a big company, or a politician with his own brand, we hope you take it upon yourself to provide effective social media support, now and in the years to come.
For more reading, check out our blog post, Top 3 Ways to Handle Bad Reviews on Social Media.
This blog post is Chapter 1 in
[eBook] The Definitive Guide to Social Media Customer Service
You can follow the links below to read other chapters or download the full ebook.
Download the Full eBook