People fall in love with a brand mostly because of the friendliness of customer service representatives. You would benefit a lot from happy customers because they probably will become your word of mouth and spread your brand when they can receive consistent and satisfying customer services. That's why you need to treat your customers seriously and offer them irreplaceable services.
Of the many factors that impact customer satisfaction in live chat, the soft skills of communication of your representatives stand out since dealing with people can be complicated. And these skills go to one category: live chat etiquette. Simply everyone loves etiquette.
 Let Customers Know You Are a Real Person
Many argue that they feel icy cold when chatting online with whoever is on the other end of the window like they are chatting with a robot. That's because they cannot find anything human about the person who is chatting with them. With a little bit effort, things can be different.
What you have to do is to add a human touch to the chats. We have some tips for you:
Add a real image and your name in your profile.
Send customized greetings like "Hi Jenny, good day! My name is Robert. It is a pleasure to help you." to customers.
Make your answers to the point and personalized. Instead of sending information of all pant sizes to customers, do ask one more question about the size they really want and serve them precisely.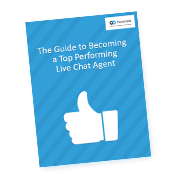 [Free Download] The Guide to Becoming a Top Performing Live Chat Agent
Well-trained agents mean better customer satisfaction. Here we offer 12 essential tips for live chat agents to communicating effectively, addressing customer issues efficiently, and representing your brand professionally.
Download Free
Understand Your Customers
This is especially important when customers are angry and have complaints about your products or services. And customer service is a natural channel for them to let out their emotions. If not handled well, they are most likely to spread their negative feelings on social media platforms or among their friends, which of course can damage your branding and reputation.
Do not lose temper yourself. Your job now is to sooth them and to calm them down. Try to understand their situation and feelings and show sympathy. Answers like "I'm sorry this has happened. I understand your frustration. I will do my best to help you out. " are good options and can be helpful.
Only Promise Offers Within Your Reach
Customers can get quite unsatisfied if you cannot deliver what you or your co-workers have promised. This happens mostly due to lack of knowledge and misinformation. Chances are your first priority is to convince customers into a purchase so you have to keep things that don't sound good for yourself. And you haven't told them the whole story. Or there is some miscommunication among your team so that different representatives speak differently.
Do remember that consistency is of great significance to customer satisfaction. DO NOT attempt to deny your promise and seek for ways to make it up. The best way for you to retain your customers is to under-promise while over-delivering, which will surely make them happy and exceed their expectations. So keep consistent during service and make it clear within the entire customer service department.
Always Make Sure Customers Get Your Message before You Leave
While you can deal with multiple customers with live chat at the same time, chatting with you is certainly not the only ongoing task for your customers. Chances are they might leave you for quite some time without response. I know you want to end the chats because they won't be fruitful and will affect your performance indicator. But you obviously should not treat customers the same way because they hate ignorance. Actually, the worst thing in customer service is to let customers feel no care for them. Step by step common practices for such scenario:
Send a message to your customer after 5 minutes with no response:

Are you still there?

Send another message 2 minutes later if still no response:

I am going to leave in 2 minutes. If you need any further help, please contact us again and we will get back to you in no time. Thank you very much for chatting with us. Have a good day. Goodbye.

End the chat 2 minutes later if there still is no response
Keep Your Customers Informed of Your Situation
You may be handling multiple tasks simultaneously and need some time answering their questions, which might leave each customer waiting from time to time. Or some customer asks you a question that requires collecting much information so that longer time is needed. So you have to figure a way out to let your customers wait with patience.
Just keep in mind that nobody would like to wait like there is no end. Put your feet in the boots and think about it. But if they are informed in advance how long they are going to be waiting, things can be quite different. Your customers are people with emotion and they surely can understand the necessity of waiting and would be willing to wait if you let them know in details what you are doing to solve their problems. Always give them options to choose from. Ask whether they prefer to wait for the results or to leave for now and wait for your follow-up call or email.
Be Honest When You Have No Answer
You cannot know everything your customers want to know, even veterans can't. Customers vary, so do their problems.
When asked by questions that you have no clue, don't be panic or blame yourself for it. Actually, it happens. Stay calm and focus on how to solve their problems. There can be two solutions:  tell customers frankly that you currently cannot answer their questions and need some time looking up for information; tell customers that solving their problems requires information that you have no permission to access and then escalate them to someone else in your team who can deal with them.
Offer Alternative When Refusing Your Customers
Sometimes customers can insist on something that you cannot provide. For example, they ask for something that your product or service cannot offer for the time being, or they want to get confidential information from you when they have no idea what they are asking for is not for disclosure, to name a few.
Often tell your customers it's all for good cause when you cannot satisfy them and provide another option for them. Avoid answering them directly with "I don't know" because customers will be uncomfortable and don't know what to say next. Most importantly, you can't solve customers' problems. Try to understand why they want this or that and help them out if possible.
Leave your comment below and share your insights on the topic. Or if any other topic interests you and you want to know more, just leave me a message.
[Free Download] Get the Best Customer Service Metrics in Your Team
This eBook contains all of the hints and tips live chat agents need to optimize their metrics, including average handle time, customer satisfaction, first contact resolution and sales figures.
Download Now