Much has been studied, discussed and debated about keeping customers satisfied and loyal to your brand. In the past, people believed that providing a unique customer service experience was the key to customer loyalty. However, customers rarely frequent your business for exceptional customer experience.
While a few types of customer service scenarios can be driven by exceptional service (such as a traveler patronizing a specific hotel based on the personalized care he received on his last visit), in the majority of the cases, customers will remain loyal to your brand for three reasons:
Value
Quality of product/service, and
An effortless experience
When your customers only have to sit back and have everything done for them, they will definitely keep on coming back.
A Case Study: Richmond Telephone Company
Richmond Telephone Company is a small telco in a tiny town in Massachusetts. Launched at the beginning of the last century in 1903, it has survived a host of technological changes, from the creation of cell phones to the launch of the internet!
The Boston Globe named the tiny company "the industry antidote" to robotic customer service. Now, the Richmond Telephone Company is definitely not significant in terms of a customer base – staff can recognize specific callers purely by their voice! With the size of their customer base and their ability to physically interact with their customers on a day to day basis, this phone company is able to offer a level of service that is truly hard to beat. You have to realize that in Richmond, nothing is more than 10 minutes away!
Regarding low effort service, the Richmond Telephone Company is the epitome of effortless issue resolution. By resolving issues next to instantaneously and having a deep and long-standing relationship with clients, loyalty is almost guaranteed. Compare that with the long and laborious process of dealing with large telecommunications companies. Often, you'll explain your issue several times, the agents you speak to will ask for passwords which are long forgotten, and hold times are usually lengthy.
The relationships built between the staff and customers at the Richmond Telephone Company often see customers stopping by the office to pay bills instead of mailing them. This frequent interaction allows the team opportunity to predict future issues and mitigate them in advance. The effortlessness the company offers has made it a local favorite, and it is near impossible to pry their customers away.
Unfortunately, that's not often the case for many other businesses. While Richmond customers are somewhat tied to their local provider, many other companies – especially those in larger markets – have to deal with a significantly more disruptive business environment. The lessons provided by the Richmond Telephone Company regarding effortless customer experience should not be ignored though.
The Importance of Being a Low Effort Company
Corporate Executive Board (CEB) Global is the consulting firm who came up with the Customer Effort Score. Studies carried out by the company revealed that customer loyalty is greatly influenced by how much effort customers have to expend to have their problem resolved.
They determined that the effort expended by customers influences their perception of service much more than the creation of unique experiences at isolated customer touch points. But why should companies look to switch to a customer experience model that prioritizes low-effort outcomes? Here are some advantages of being a low-effort company:
Fosters Customer Loyalty

In the book "The Effortless Experience: Conquering the New Battleground for Customer Loyalty," the authors argue that creating exceptional experiences at single points will not guarantee customer loyalty.

The book highlights a study that was conducted with more than 75,000 participants who had interacted over the phone or self-service channels. It revealed that delighting customers will not build loyalty, rather, it is by reducing the work customers have to do to solve a problem that loyalty is built. For instance, the study results showed that 94% of customers who experience low effort interactions with a company are more likely to buy again. Companies that have taken proactive steps to reduce customer effort have recorded higher customer retention rates.

Mitigates Customer Disloyalty

At the risk of sounding repetitive, let's clear the air and understand that promoting loyalty and mitigating disloyalty is not the same thing.

The same study mentioned earlier from CEB Global found that when a customer reaches out to a company to ask about something, customer loyalty drops. Customers usually call the support center as a last resort, having failed to find the answers they need on a web self-service platform or FAQs section. By the time they call the company hotline, they will already have expended a lot of effort and gotten frustrated.

When customers initiate an interaction with a company, they become four times less loyal towards the company. Realize that customers do not like ringing your call center and provide avenues that customers can use to solve their problem themselves. While this does require a certain degree of predicting future issues, as well as designing different self-service journeys, it will guarantee that the effort expended by your customers is lessened.

Reduced Customer Service Costs

Reducing operational costs ranks highly on the list of priorities for most companies. Most businesses consider their customer service and tech support teams simply as cost centers and argue that their customer service is already good enough. For many companies, this focus on costs often equates to minimizing talk time with customers and reducing the number of FTEs on the floor.

However, proactively helping to reduce customer effort relieves the strain on call center agents, and this proactive exercise helps to drive down operational costs. CEB Global studied a dataset of 145,000 customers which showed that "high effort" companies spent more on customer service than companies that handle issues with ease. Some of the factors that contribute to high effort interactions and increase costs are:

Taking a lot of time to process customer issues

Transferring customers to multiple contacts

Restrictions caused by unnecessary procedures, processes, and policies

Limited technology that makes it hard for customers to resolve issues, e.g., lacking an online self-service feature or live chat functionality

Poorly trained representatives that cannot help customers efficiently hence issues are left unresolved

Even if you aren't interested in customer loyalty, becoming a low effort company pays off by minimizing costs such as these.

Prevents Bad Publicity

We have all seen viral stories of horrific customer experiences. An example is when TigerDirect put a caller on hold for more than five hours, and he was tweeting about it the whole time as it happened. Perhaps a more recent episode is with EA's Star Wars Battlefront 2. As a Star Wars fan myself, I can definitely understand the angst felt by the purchasers!

A brand's reputation is very precious, and a tarnished image can cost you a lot in potential lost revenue. As such, it is paramount that a company avoids creating bad experiences where the customer has to jump through hoops to get help.

CEB Global found that 65% of customers with a negative customer service experience will spread negative reviews about the company, whereby only 25% of positive interactions will be spread through word of mouth. Although negative word of mouth might not harm your bottom-line at the time, if it goes viral, the public perception of your company will take a hit.
How to Become a Low Effort Company
Here are five steps you can follow to realize the objective of being a low effort company:
Anticipate Issues Before They Occur

This step requires you to empower your sales team and customer service representatives to be proactive. During interactions with the customers, educate them on products, promotions, and policies. Apart from answering questions customers may have, ask your team to go further and explain related questions that can help solve the issue. Doing this will help customers make informed decisions before buying and reduce the number of calls your support team receives.

Pinpoint Touchpoints That Cause Friction

Some examples of high friction interactions include dealing with long wait times, preventing redundant information requests (e.g., account password resets), reducing confusing policies and procedures and also eliminating phone tree networks where the customer is bounced from one line to the other.

When left unaddressed, these touchpoints cause customers to move through multiple channels and increases customer churn. Also, try to ensure issues are resolved in the first call, e.g., by removing policy barriers and supplying call center representatives with enough information.

Align Your Communication Channels

Customers have no regard for your channels and see your company as a brand; not a collection of channels. Hence, most customers expect to get universal access to their accounts, solve issues across channels seamlessly and at the same time get consistent answers on all channels.

Having huge gaps between channels and their capabilities will create high effort interactions that will drive customers away. One way to align your channels is to have a ticketing system to flag requests so that they can be answered on any channel. If your company uses one channel, find the gaps in that channel that increase customer friction and change them accordingly.

Use Technology to Your Advantage

When most executives hear about investing in new technology and systems, they brace themselves for sky-high prices and costs. However, it needn't be expensive to acquire supporting technology. For smaller businesses, an Excel spreadsheet is cheap and can be used to classify customer requests and follow up on commitments. For larger businesses, there are many different CRM systems available that can grow with your business, and quite a few are available for next to nothing!

If you already have CRM software, give access to your sales associates so they can access information on buying behavior and adjust their sales tactics. You can also use platforms to your advantage that accelerate service delivery, such as self-service tools and point of service (POS) systems. Make sure you gather customer opinions to avoid investing in an unwanted system.

Empower Employees on all Levels

Nothing is as frustrating to customers as being forced to go through lengthy processes because frontline employees do not have access to necessary information, like customer purchase history. It creates a lot of friction which translates into customers working extra hard to resolve problems.

A longtime customer can bail in a second if they can't be helped, despite giving the company business for many years. Give access to relevant information so that employees can confidently help customers, especially your customer-facing employees.
Summary
Once you realize that it's really the effort that a customer puts into the experience that matters and not the superhuman efforts of your staff, it's actually easier to provide a more useful and humane customer experience. The key point to realize is that while you might not make them "happy," you will leave them satisfied, and that's what will keep them as your customer!
Let us know in the comments if you agree with the findings of CEB and the strategies you've used to reduce the effort that your customers have to go through.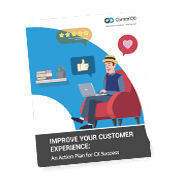 [Free Download] Improve Your Customer Experience: An Action Plan for CX Success
This eBook contains best practice tips from the CX field, encompassing methodologies like Six Sigma to ensure your pathway to customer experience improvement is clear and straightforward.
Download Now