We've all been there: you're waiting on the phone or in a live chat session, and the representative is fumbling with information. He or she tells you that your problem is solution-less; that he or she is sorry, but if you just give it 24 hours maybe the problem will just go away on its own.
Frustrated, you hang up. Your problem has not been resolved. You will have to try calling, chatting, emailing, or even reaching out to social media again in the hopes of connecting with someone who knows what they are talking about.
"For the average contact center SQM benchmarks, only 48% of total calls are 'one and done' call resolution. This means for the average contact center, 52% of total calls handled by customer service representatives are for customers who are calling 2 or more times to resolve their call."
This quote, which was published in a study done by the SQM group, shows the tremendous room for growth when it comes to first contact resolution and the customer experience.
The blog post is included in [eBook] Agent Guide: Get the Best Customer Service Metrics in Your Team. Click here to read or download the full ebook.
What Is First Contact Resolution?
First contact resolution, otherwise known as FCR, is a metric that deals with whether a customer has had their issue solved the first time or not. You can tell whether you have achieved a first contact resolution by asking the customer the following questions:
Has your issue been resolved?
Is this the first time that you have contacted us about this issue?
First contact resolution can be measured across various customer service channels as such:
Phone: whether a customer's issue has been resolved in one phone call
Live chat: whether a customer's issue has been resolved in one live chat session
Email: whether a customer's issue has been resolved in one email response
Social media: whether your issue has been resolved in a single message
The definition of first contact resolution is constantly evolving. It was first coined as "first call resolution," back when the telephone was overwhelmingly the most popular customer service channel. It has since shifted to "first contact resolution," or even "first conversation resolution," to encompass how customer service is changing in response to an increasingly internet-based culture (i.e. the emergence of live chat and social media as important customer service channels).
Why Is First Contact Resolution So Important?
Increasingly, first contact resolution is being recognized as the most important metric for measuring customer contentment. This is because, as the Harvard Business Review puts it, "delighting customers doesn't build loyalty; reducing their effort—the work they must do to get their problem solved—does." First contact resolution is a necessary part of reducing customer effort and increasing customer satisfaction.
And it's not just the Harvard Business Review that has words of insight into the matter. According to TELUS International, a study conducted by Customer Relationship Metrics found that "CSAT (customer satisfaction) ratings will be 35%-45% lower when a second call is made for the same issue."
First contact resolution is not just an important metric for the customer; it is also important to customer service agents. FCR can provide the following advantages:
Customers aren't always sunshine and roses—the longer a customer's issue goes unsolved, the more likely you are to find yourself on the receiving end of his or her frustration.
Ensuring first contact resolution helps avoid a congested queue and reduces your workload.
Measuring first contact resolution can uncover agent training issues, and can help you get the resources you need to succeed.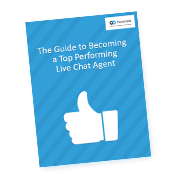 [Free Download] The Guide to Becoming a Top Performing Live Chat Agent
First contact resolution is of great significance to customer satisfaction.To further optimize first contact resolution, here we offer 12 essential tips for live chat agents to communicating effectively, addressing customer issues efficiently, and representing your brand professionally.
Download Free
What Can You Do to Optimize First Contact Resolution?
While you can't force a customer not to blow up your company's phone line, there are steps that you can take to better your first call resolution rate. We have compiled the following list of best practices to help you resolve your customers' issues the first time:
Make First Contact Resolution a Priority

There are times when you just want to get a customer off the phone. Maybe your queue count is through the roof, and you're already more than 15 minutes into a call or live chat. Or maybe your supervisor is telling you to hurry up and wrap-up the email that you have been carefully composing.

Whatever the case, in order to optimize your FCR, it is important that you make resolving the customer's issue on the first contact a priority, not an option.

Be Honest and Direct with Customers

Sometimes you have to be the one to tell a customer something that he or she does not want to hear. Other times, your customer might want an answer that you don't have.

Instead of trying to soften the blow with avoidance or fluff, it is important that you be honest with your customers. This means refraining from lying or withholding information from them.

The reason behind this call to honesty and directness is simple: By being transparent with your customers, you can avoid them contacting the company again in search of more information. Being direct also helps your customers view you as an authority on their issue, which increases your credibility in their eyes. As a result, when you avoid vague answers, fewer customers will call back to try and speak with another agent who they hope will give them the answer that they want, or who they feel may be more knowledgeable.

Try it out!

DO:
"I'm very sorry about the delay—it looks like your photos were damaged in the lab. They are currently being reprinted and will be shipped out to you by the end of today."
DON'T:
"I'm very sorry for the delay—we will get your photos to you as soon as possible."

Here, the customer who was told the "Don't" information, could easily get frustrated with the lack of information that was given. As a result, they are likely to call back to try and find someone who could tell them what was going on and give them a better answer. Meanwhile, the "Do" information was very clear and leaves the customer with little room for doubt.

Giving Out Misinformation

Being honest and direct doesn't always mean being right. That is why it is extremely important to always take additional steps when necessary to avoid giving customers the wrong information and hurting your first contact resolution rate.

Giving a customer the wrong information is a sure recipe for a repeat contact. Instead of using vague language as a get-out clause for giving wrong information ("I think that should solve it for you…", "I'll try to call you back by the end of the day today"), if you are ever unsure of something, double-check with your supervisor. If your supervisor is busy, you can even check with an experienced agent who is seated near you and has the ability to help (such as if they are answering an email or a live chat message and can spare a moment to answer your question).

Not giving out misinformation also in part means knowing your limits as far as how much you can really help your customer. While it is good to put your best towards helping a customer, it is important to know when and how to properly transfer a customer who needs additional or more specialized help. Otherwise, you might find yourself on a 45-minute-long phone call with a frustrated customer, which in the end needs to be escalated anyway.

Try it out!

DO:
"Thank you for contacting us! We are sorry that your international roaming option isn't working. In order to reset your cellphone's international roaming, please turn off your mobile phone. Once it's turned all the way off, you may turn it on again. As it boots back up, enter the following keys: *4325. This should reset your international roaming and fix your issue."
DON'T:
"Thank you for contacting us! Unfortunately, I don't think the country where you are located is covered by our World Wide plan. Again, we apologize for any inconvenience."

Instead of taking the time to research the correct information, the agent in the "Don't" example used "I don't think," as a get-out clause—an addition that he hoped would lessen his accountability for giving out misinformation. This leads to a negative customer experience and an impacted first contact resolution rate. Meanwhile, the agent in the "Do" example used his knowledge, resources, and researching abilities in order to provide his customer with the best solution available, resulting in cutomer satisfaction and an effective resolution the first time.

Anticipate Follow-ups

A large part of optimizing your first contact resolution rate is anticipating follow-up correspondence. This means knowing what your customers need before they need it. You can anticipate and prevent follow-ups the following ways:

Tell Your Customers Everything They Need to Know the First Time

By making sure that your customers have all of the information that they will need the first time, you can eliminate the need for them to contact your company again and better your FCR rate.

In phone calls and live chat correspondences, be sure to ask your customer if there is anything else that you can do for them. Empathize with your customer's situation to try and unearth reasons they might need to get back in touch. To avoid repeat customer contact, do not hang up or end the chat abruptly.

In email correspondences, it can sometimes be a little bit trickier to resolve a customer's issue in a single correspondence. However, it is important that you make sure to give the customer all of the information pertaining to their issue so they don't have to ask any further questions.

The same thing can be said with collecting customer information. If you need a customer's information in order to better assist them via email, be sure to ask them for all of the information you will need, and not ask for the information piece by piece. This will prevent your email correspondences from being too dragged out across multiple agents. The end result is a faster resolution time and fewer emails in the queue.

Try it out!

DO:
"Hello, and thank you for contacting us! I'm sorry to hear that your product arrived damaged. Please provide me with the following information so that I can replace your order:

Your full name
Your mailing address
Your order number or account number (you can find your order number at the top right-hand corner of your confirmation email)."

DON'T:
"Hello, and thank you for contacting us. Please provide us with your order number so we can proceed. Thanks!"

By asking for all of the customer's information upfront, the representative in the "Do" example managed to avoid a series of needless back-and-forth emails that would have stretched the customer's issue across several representatives. Unfortunately, the customer in the "Don't" example won't be so lucky.

Refer the Customer to Self-Help Tools for Future Reference

Some customers will gladly use self-help tools, but may not know that they are available to them, or how to navigate the self-help system. By referring customers to self-help tools that they can use for future reference, you give them the power to try to solve their own issue the first time in the future.

When referring a customer to a self-help system, it is important to do so for them to reference for future help only. Don't have them refer to it instead of helping them with their current issue.

Try it out!

DO:
"I'm sorry, but we no longer have that item in stock. Once the item is back in stock, it will be updated on our website. To check if the item is in stock on our website, please search for the item by its code, 0938."
DON'T:
"Please check item availability online."

Watch Out for Patterns in Repeat Contacts

The human brain is constantly looking for patterns. So, make sure to put your pattern-finding abilities to use and watch out for reoccurring reasons why customers are making multiple contacts about one issue. What is the biggest thing that is impacting your first call resolution rate? Where and why are most of your follow-up calls happening?

Sometimes you might notice a pattern in which a system or process that your company uses is not effective, and negatively impacts FCR. While you can't exactly control this on your own, it is important to pass information regarding these patterns on to your supervisor.

By studying patterns, you can learn what you and your team can do differently to help better resolve customers' issues the first time.

Keep It Simple

Just because you want to anticipate a follow-up doesn't mean you should overload your customers with information. By being selective and smart about the information you send customers, you can avoid an information overload that could lead to confusion and repeat contact.

If you have canned responses for certain issues, remove parts that aren't relevant to this specific customer's issue. Additionally, if part of a solution is something that your customers need to do on their end, be sure to walk them through it to ensure that your customers understand what they are doing.

Use Screenshots and Other Tools

We've all heard that a picture is worth 1000 words… and there is a reason the saying exists. One of the benefits of live chat is the ease with which you can send customers screenshots, PDF files, instructional videos, and other relevant digital information.

These and other handy live chat resources, such as screen sharing, should be used in order to further help augment your first contact resolution. The great thing about using downloadable resources is that customers can re-reference these resources multiple times, so that they can solve the issue themselves should it come up again. Emailing customers the transcript of their live chat conversation gives them additional material to look back on in the future, therefore improving your FCR rate and their customer experience.

Avoid Asking the Customer to Call Back, Or to Contact You Via a Different Channel

There are some cases where no matter how much you'd like to, you can't help a customer out via their customer service channel of choice. They might ask you to place an order for them via email, which you may be unable to do given security restrictions. In other cases, you might not be able to help the customer with their issue due to a timing problem. Maybe your company is experiencing a temporary system error, and your servers are down. Another example is if a customer needs to speak to a supervisor, and all of the supervisors are busy at the moment.

Asking customers to call back later, or to contact your company via another channel is a nuisance that should be avoided whenever possible. To help keep your first contact resolution rate up, always do your very best to solve your customers' problems, regardless of how they contact you. If they do need to wait to resolve an issue, such as an issue that requires the help of a supervisor, you have two options:

Give the customer an estimated wait time and put them on hold.
Take down the customer's number so that you or your supervisor can reach out to them later.

When going with option number two, be sure to ask the customer what time is best to reach them, and to schedule a call to minimize the effort that they have to go through. This will also help ease any worries that you will not call them back.

Try it out!

DO:
"Thank you for contacting us! I am sorry that we can't assist you over email at this time. I can however schedule a callback at a time that is convenient for you, so that we can get this issue resolved there and then. What time would be best for you?"
DON'T:
"Thank you for contacting us. For further help with this issue please contact our complaints department at 1(800)555-5555. Thanks!"

By asking your customer to call back or contact you via a different channel, you are directly impacting your FCR rate, and potentially annoying them in the process.

Give and Take Relevant Contact Information

As a customer, it is a nightmare to be nearly at the point of solving an issue with one representative, only to have the call drop and be forced to start over with a new agent. To ensure that this does not happen, be sure to take down your customer's call-back number at the start of the call, especially when you are about to get into a complex issue. This way, the progress that you have made with your customer won't be lost should a glitch in the phone service happen. This will save both you, your fellow agents, and your customer time and energy.

If you and a customer get disconnected in the middle of a complicated live chat resolution, you can also take steps to reconnect with that person. If your live chat platform uses a pre-chat survey that requires the customer to fill in an email address, you can use this information to email your customer any remaining instructions or comments that went unsaid before the chat disconnected.

Get Customers' Feedback

The only person who will truly know if the customer's issue has been solved is the customer. Before ending the call or chat, ask your customer if their issue has been solved and if there is anything else that you can help them with.

Try it out!

DO:
"Great, I'm glad I could help! Is there anything else I can help you with today?"
DON'T:
"Great, I'm glad I could help! I hope you have a nice day!"

If you, like the agent in the "Don't" example, assume that your customer's issue has been resolved and end the live chat or phone call without confirmation from the customer, you are risking the possibility of leaving behind a customer whose issue has not been fully taken care of. The result is an unfortunate customer experience and an impacted first call resolution rate.
Conclusion
When you and your team of customer service agents take steps to optimize first contact resolution, the result is greater customer satisfaction and fewer calls, live chat messages, and emails piling up in the queue.
By committing to making FCR a priority, not an option, you can start to generate loyalty from your customers and a better working environment for your team.
To learn how to use good communication practices to achieve first contact resolution over live chat, check out our blog post, 16 Live Chat Best Practices to Help You Deliver Superior Customer Service.
This blog post is Chapter 3 in
[eBook] Agent Guide: Get the Best Customer Service Metrics in Your Team
You can follow the links below to read other chapters or download the full ebook.
Download the Full eBook