Welcome to the first of a new series of monthly posts where I will be looking at the best of Customer Service, Customer Experience and Customer Success articles that can be found online.
In each post, I will be providing a brief recap and review of articles that I came across in the previous month and recommend to anyone with an interest in staying up-to-date in CX thinking and best practices.
So without further ado, let's check out May's top posts!
Have a H.E.A.R.T
Steve DiGioia has a very succinct yet informative post on the best way of dealing with upset customers, and his acronym is particularly useful for remembering what you need to do. I wrote a post years ago on a similar topic but I really like Steve's take on it as I think it gets to the heart (no pun intended) of the matter in a simple and clear manner.
This was a post that actually really struck a chord with me as sadly we've all dealt with irate and upset customers throughout the course of our careers. While we might think that they come with the territory, how they are dealt with is very important and many excellent customer service employees still have a really difficult time of it.
If you take the lessons that Steve is proposing, I don't think anyone in your team will have a problem understanding and remembering what they need to do to succeed.
Pacing Yourself for the Win
Michael Pace on his site, the Pace of Service (I really like the name by the way!) made an excellent point about churn and the importance of customer service.
In his post – Why Customer Success is the Future of Customer Service, he gives some real numbers and data that helps transform something we all know (post-sales support matters), into something that is unquestionable. His simple analysis of the impact of churn and the effort required to obtain new customers is really eye opening and it will probably help you in your next conversation with senior management when you ask for additional resources and tools!
Metrics and Measures
We've talked about metrics and KPIs on the blog previously and we've focused on ensuring that you're actually measuring the right things and how to measure. Andrea Saez takes this even further however, in her post Looking Beyond Metrics on ProdPad, when she explains why you can't just rely on the metrics to tell you how your customers are feeling.
Andrea explains why at ProdPad they don't use some of the common measures that we're all used to using. It's a refreshing take on customer service, and the numbers game as the focus with ProdPad is targeted internally vs. through external customer surveys.
By shifting the focus away from standard metrics and measurements and towards education and transparency, the ProdPad team has improved the skillset of their users in addition to their teams. This has directly led to a stronger and better educated user base, which has decreased basic calls and questions into the help centers.
I really like Andrea's ideas and posts, and I think the improved customer interactions that come from this changed way of measurement are a huge improvement. The standard metrics and KPIs we're all used to still have a place, it's just all about ensuring that they don't take the place of the human touch!
Dealing with the Negative
We talked about upset and irate customers earlier – but what about situations that are so egregious that they hit the airwaves and are shared around the world? These often aren't one-off customer complaints or issues, but rather deep and underlying faults at the heart of an industry.
Dan Gingiss has an excellent post on Forbes where he talks about the airline industry, what they can and cannot control, and how this impacts the customer experience. While we'd all like to blame airlines for all of the problems we experience at the airport, Dan rightly points out that some factors – like the weather, security delays and even crying babies – are simply not in their control.
For the things that are in their control though, they need to take complete ownership. United Airlines, you might remember, had a horrible incident last year when they literally dragged a person off an overbooked flight. Due to this incident and all of the negative publicity, they changed their policies ensuring that future incidents of the same type are not possible.
Make Your Agents Customer Heroes Through Storytelling
Let's end the search for the best stories from last month with our very own Kaye Chapman. Kaye is one of the Customer Experience leaders within Comm100 and in her blog post on CX Accelerator she talks about creating customer heroes through storytelling.
Storytelling is a powerful mode of communication which explains its extensive use throughout history. Often times, stories last for hundreds of years as they are passed down to inform and educate with hidden gems of knowledge embedded within.
Leveraging the power of storytelling to gather and disseminate vital information in the call center is a smart move. Empowering your call center agents to collect valuable customer stories helps the organization gain insights and better understand customers. At the same time, agents can regale each other with stories of how they saved the day for a troubled customer or turned things around in a tough situation.
Agents are on the frontline, interact a lot with customers and incorporating stories of past success can certainly boost their individual self-worth.
Conclusion
I hope you enjoyed our first round-up of some of the best Customer Experience and Customer Service posts for the month of May 2018. Let us know what you think in the comments below.
If you have a post that you'd like to share with a larger audience and want to be included in our next round up, please feel free to add a link in the comments also!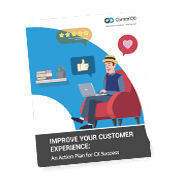 [Free Download] Improve Your Customer Experience: An Action Plan for CX Success
This eBook contains best practice tips from the CX field, encompassing methodologies like Six Sigma to ensure your pathway to customer experience improvement is clear and straightforward.
Download Now