Out of all the customer engagement software tools that are out there, which one is right for your company? The question is a loaded one. Different companies have different needs, and a very diverse number of customer engagement tools are waiting to fill those needs.
This blog post will cover several of the top, most sought-out customer engagement tools on the market. Some of these tools have millions of loyal users; others are newcomers or vertical market players. Regardless of what you're looking for, we hope this post will help you decide which customer engagement solutions will be the best fit for your company.
Here's a quick glance at what's included in this post:
Popular Customer Engagement Software Tools and Who They're Good For?
Which Factors Should I Consider When Deciding on a Customer Engagement Tool
Before you decide which customer engagement tool is right for your company, let's take a look at the different considerations that you may need to factor into this decision:
Industry — More and more customer engagement tools are available to cater to the needs of different industries. While many businesses will fare fine with broader customer engagement tools, searching for specific vertical market solutions is a great option for companies with industry-specific needs that are not being met by traditional software solutions.
Business size — Do you run a small business or a large enterprise? This may influence which customer engagement tool will be able to best serve your company.
Price — It's important to consider your budget when looking into customer engagement tools. Depending on what you're looking to buy and how big your business is, customer engagement software varies from free to hundreds or even thousands of dollars per month. And it's not just the cost per agent or interaction that companies need to take into account — deployment costs can also vary per software.
Operating system — Some customer engagement tools run better on certain platforms than on others. Before purchasing your customer engagement software solution, make sure that it is compatible with your company's main operating system (Windows, Mac OS, Linux, etc). Another thing to watch out for is whether a customer engagement tool integrates with your existing core systems, such as your CRM system (if you have one). If it doesn't, the purchase may not be worth going forward with unless you're looking to change your core systems as well.
Method of Deployment — Back in the day, customer engagement software was always implemented on site. Nowadays, companies have a choice of whether to purchase software with on-premises deployment or a web-based software solution that stores data on the cloud.
Need — It's easy to get distracted with everything that customer engagement software vendors will sell you. Before you buy, reflect on what it is that your company actually needs. Consider your company's goals, and focus in on the software that will help your company achieve these goals.
Popular Customer Engagement Software Tools and Who They're Good For
The following use cases were written to show which kinds of businesses will most benefit from different customer engagement solutions. We've included some pros and cons of each software, along with price, industry, deployment method, and other useful information to help your company get to know these solutions. All data is the most recent information available as of the beginning of 2018.
Conclusion
The right customer engagement software will put your business on the path towards higher sales, growth, and profitability. In the end, whether you choose to adopt one (or more) of these customer engagement solutions or their competitors will depend on where your company is at, where it wants to go, and what resources are available to take it there.
To see how customer engagement stacks up against other top contact center goals this year, check out our blog post: Is Your Contact Center Ready for the New Year? Set Your 2018 Business Priorities with CCW Digital's Winter Report.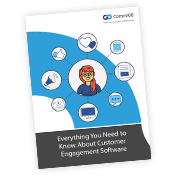 [Free Download] Everything You Need to Know About Customer Engagement Software
This eBook will help you to learn about typical software solutions, categorize them according to your needs, understand typical benefits and pitfalls, and it also comes with a handy checklist to guide your final decision.
Download Now