It's important that self-service knowledge base content and even chatbot functionality be updated regularly to reflect changes in company policy, business offerings, and customer needs.
For example, in response to the COVID-19 crisis, WestJet added a cancellation/ rebooking tool to their chatbot which customers could use without having to contact an agent, in addition to relevant knowledge base content. Together, these automation and self-help tools free up agents to focus on assisting customers who have an immediate and pressing need — such as those who have a flight in the next 72 hours.
A knowledge base is another integral tool to take pressure off your agents by making information more accessible to your customers. As well as providing knowledge base articles and FAQs within your site, you can also make them accessible within your live chat window. When a customer reaches out via live chat, knowledge base Q&As are offered to them before they are even connected to an agent, empowering them to find the answer to their question without using agent time.
6. Use enhanced chat features to boost resolution and create VIP experiences
While the key selling points of live chat historically center around its text-based capacities, advanced live chat software providers offer a host of other real-time communication tools that enhance the value of live chat. Not only do these features create memorable and unique customer experiences – they can also help agents better understand a customer's issue, handle sensitive information, and even replace in-person encounters. Ultimately, they give customers more of the one thing they really love: choice.
Key tools:
Auto-translation
Audio chat
Video chat
Co-browsing
File sharing
Before you can get anywhere close to creating VIP experiences for your customers, you need to be able to speak their language – literally. For this you need built-in auto-translation, allowing you to customize your live chat interface into a touchpoint that is available in more than 100 languages. Comm100 Live Chat automatically translates chat messages to and from a visitor who speaks a different language, meaning than even customers and agents who do not speak the same language can have a helpful exchange and easy resolution.
Audio chat can be an attractive digital communication option for many situations. Perhaps the issue in question is more complicated than first thought and would be more quickly resolved through verbal conversation. In such a situation, the agent can simply offer to call the customer from within the chat window without any required downloads, transfers, or awkward waits.
Audio chat is a great tool for serving international customers who don't want to place an expensive long-distance call just to resolve a complaint (like regular chat, audio chat will count toward data usage). And it isn't just important for customers: unlike landlines, audio chat is always toll-free, which means you can shed some of the costs of traditional phone support.
Example of integrated auto-translation, providing translation of French to English for a live chat agent.
Video chat gives you another way to elevate  your  digital  customer  service  and  sales practices by bringing web visitors and agents face-to-face for in-depth, personalized support. Video chat can be used to create strong one-on-one relationships with your customers. It helps build trust between salespeople and potential buyers: according to Albert Mehrabian's book, Silent Messages, customers view the body language of salespeople as the number one criterion for assessing their credibility.
Video chat can be used to give virtual product tours (such as showing off a car or home), or demonstrations (such as showing off styling tips for a wearable product). It is sign language and disability-friendly, making it accessible for all of your customers. It is a great way to show customers your true self.
Co-browsing is another enhanced live chat feature that can speed up resolution times, particularly for complex web-related issues. With co-browsing, customers can share their screens with agents, giving agents the visibility they need to more easily walk customers through their problem – such as making a necessary change to their account, technical troubleshooting, or shopping cart assistance. They can even give the agent permission to take control of the browser session, with access strictly limited to only the tab they're sharing.
Live chat sessions with co-browsing have a customer satisfaction score of 89.3%, six points higher than sessions without at 83.1%, making it an extremely valuable, frictionless customer service tool. Co-browsing is a browser-based solution, meaning that no additional downloads or plugins are needed for either party. (Beware of co-browsing solutions that do require plug-ins as they erect considerable barriers to customer adoption and ease of use.)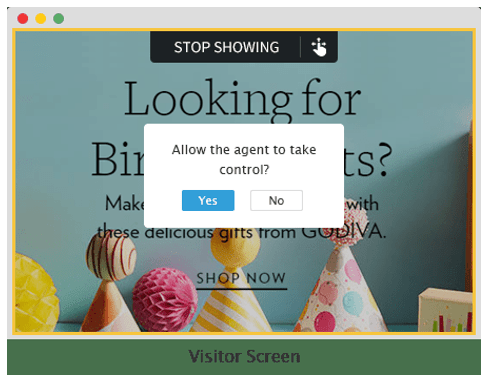 Example of agent remote control
Enhanced live chat features like audio and video chat and co-browsing can pay big dividends, but they do require additional customer service considerations. Representatives who use them will need to account for factors that are more akin to phone and in-person customer service: posture, body language, eye contact, tone, and clarity of speech should all be considered when using these features. While these options are great ways to escalate an issue that may be more easily solved over the phone or in-person, agents should never initiate the switch without the customer's request or consent.
File sharing is quick and easy over live chat and is a great way for customers to get faster help. Customers can send a file to agents within the chat window with just a few clicks – PDFs, images, documents, and more, as the example below shows. With these enhanced live chat features, any customer can leave feeling understood and fully catered to like a true VIP.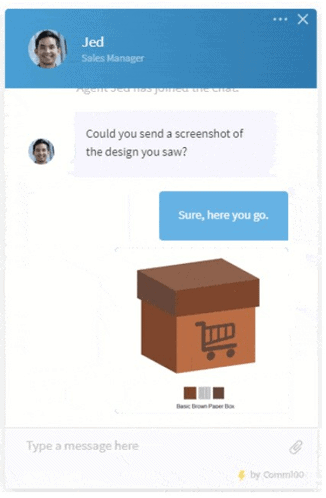 File sharing example, customer sending an image