Introduction
Comm100 Queue Management is built to streamline the customer service queuing experience. From pre-arrival to post-conversation, the system analyzes and manages the flow of customer inquiries to cut wait times, and enhance the customer experience, and improve service efficiency.
Customers are more likely to return to a business that understands and values their time. Your customers will appreciate you are saving their time. Comm100 Queue Management system definitely helps give you a better, data-based insight into your business and gets you to learn more about your customers and tailor your service to your customers. Your business can never be more innovative and tech-savvy.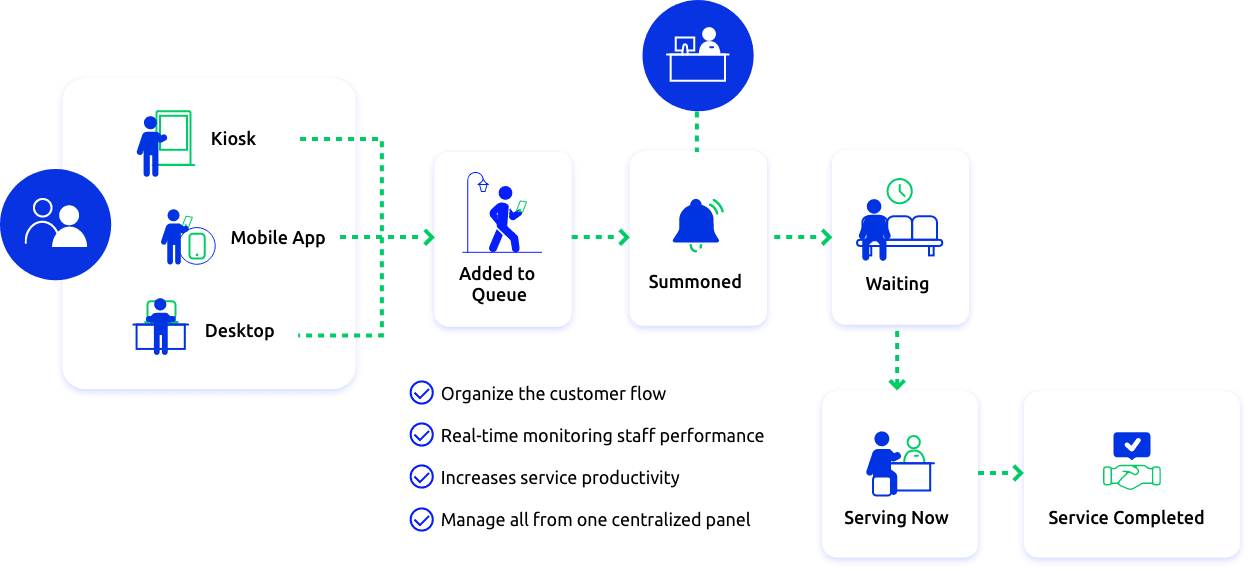 Lower wait times, happier customers
Long wait times are one of the major customer service complaints. By building a smarter and more seamless queueing process, Comm100 Queue Management significantly shortens these wait times. As well as boosting customer satisfaction, this also helps to reduce bounce rates that leave a lasting negative brand impression.
Personalized engagement supported by data collection
Before customers enter the queue, they are required to input some basic details about themselves and their queries, such as name, phone number, and reason for the visit. You can also find queue-related data such as the total number of customers who are Summoned, No-shows, Served, Removed, and the time period of Wait time, Serve time within the analytics suite that helps you understand your customers and fine-tune your service operations.
Removing uncertainty for an improved customer experience
The uncertainty of queue length and time is a key reason why humans dislike queueing. Comm100 Queue Management system removes the uncertainty of wait time by providing customers with real-time SMS notifications on their waiting status and estimated wait time. These texts, and the messaging around them, can also be automated and customized based on various scenarios. As well as improving the customer experience, this also improves team and agent efficiency.
Unlock your business growth with an improved corporate image
Comm100 Queue Management comes with easy-to-use customization settings to help you deliver a consistent branding experience. holistic customer experience with your branding and business operation schedule, giving you the opportunity to adapt smoothly and transform your service for success. You are able to update, modify or change the text and pictures on the visitor interface and set the auto switch on/off for your queues in the system based on your own business schedule, which will definitely save you a lot of time, hustle, and cost while boosting the efficiency of your overall operations.
Accurate agent allocation
With clear insights into the customer journey alongside real-time data, Comm100 Queue Management helps you improve agent allocation by understanding how many agents are needed and when. Agents themselves can also check how many customers are in the queue and how many agents are serving so they can handle queries appropriately.
Key features
Allow business to digitally handle customer's waiting experience in getting service.
Visitors can easily join a queue remotely and enjoy the waiting time with mobility.
Customized operation schedule fits your business hours.
Customized UI interface meet your branding requirements.
Customized SMS notifications will be auto sent to visitors to inform them of their waiting status and estimated wait time.
Real-time data analytics helps to monitor the customer flow.
Pre-service data collection promotes better customer relationship.
Post-service report helps better organize staff resources.
Enhance service delivery and increases service productivity.
Manage all from one centralized panel improves staff and management efficiency.