Before diving into the "ROI" question, let's start with a brief CX status based on prior CustomerThink research.
While definitions vary, in plain language Customer Experience Management (CXM) means making changes to what the company controls (touchpoints, processes, employee behaviors, product capabilities, etc.) to influence perceived experiences (CX) in a positive direction. Perceptions are usually measured with surveys to derive metrics like Customer Satisfaction (CSAT), Net Promoter Score (NPS), or Customer Effort Score (CES).
Industry experts advocate for a holistic approach considering all possible interactions and resulting perceptions. However, business leaders don't necessarily agree. For roughly one-third of companies, key stakeholders see CXM more narrowly as another term for customer surveys, service/support, or process improvement.
Therefore, it's imperative for CX leaders to clearly define and secure agreement to a CX initiatives' scope and key outcomes with sponsoring executives and supporters. As will be discussed in this report, CX benefits must include a payback based on hard numbers that are directly related to these outcomes.
CustomerThink defines a CX initiative as "Winning" if it can quantify benefits or helped the company gain a competitive edge. "Developing" initiatives report signs of improvement but can't quantify benefits, while those in a "Starting" status are not able to report any results yet.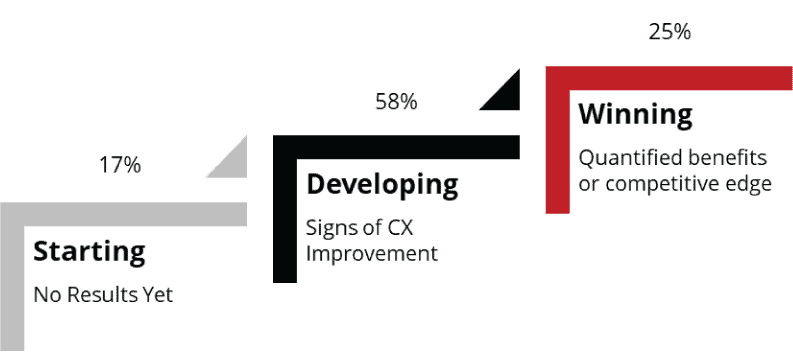 Figure 1 – Status of CX Initiatives
CX professionals involved with Developing initiatives often cite numerous benefits, including increased customer satisfaction, brand building, revenue growth, cost reduction, and more. Unfortunately, beliefs and feelings are not enough to satisfy executives with budget authority. While there is often conceptual agreement that improving CX is the right thing to do, "show me the money" is more likely to be the attitude of senior leaders.
Customer service/support is an emphasis for about 70% of CX initiatives, but other stages get at least a moderate amount of attention (Figure 2). What's notable is that Winning CX initiatives have a more consistent focus across the journey.
Figure 2 – CX Focus by Stage of Customer Journey
Net Promoter® Score (NPS) and Customer Satisfaction (CSAT) are the two most popular metrics, with Customer Effort Score (CES) and likelihood to buy or recommend also widely used. In this report, "customer satisfaction" will be used generically to mean the metric(s) used to monitor the health of customer relationships.
Please note that no one metric, or combination of metrics, has been found to be a success driver by itself. CustomerThink research found five practices that differentiated Winning and Developing CX initiatives. The highlighted fourth practice is the subject of this new research.
Best Practices for CX Success
Take an outside-in perspective to understand and act on customer feedback
Develop customer journey maps to diagnose and improve experiences
Have a commonly understood brand vision and promise that guides CX strategy
Create a business case to connect CX improvements with key business outcomes
Support CX efforts with committed senior executives who are personally engaged
Why shouldn't CXM be considered just a cost of doing business? Elite brands, where CX thinking is deeply integrated into the culture, may not see a strong need for formal justification. For most companies, however, investments in people, technology, and programs will require CX leaders to compete for budget dollars just everyone else. Unfortunately, for Developing initiatives about half are missing the needed metrics, measurement, and ROI skills (vs. just 19% for Winning initiatives). That's a gap this report aims to close!