When many people hear the word "chat" these days, they think of those little message windows on social networking websites like Facebook, Google+ or Yahoo. However, technically, those types of communication platforms are known as "Instant Messengers." If you're wondering what is live chat exactly, or are confused about the differences between "live chat" and Instant Messenger platforms, don't worry; you're not alone. In short, live chat is a platform you use on your website to communicate with site visitors, and an instant messenger application is something you use to communicate with people you know. Continue reading to get a more in-depth view of what is live chat; what it does and how it can help your business or website.
The blog post is included in [eBook] Starting with Live Chat: Strategy and Planning. Click here to read or download the full ebook.
This blog post is Chapter 1 in
[eBook] Starting with Live Chat: Strategy and Planning
You can follow the links below to read other chapters or download the full ebook.
Download the Full eBook
Live Chat Basics
To answer the question "what is live chat" in a nutshell, it's a messaging application that resides on a webserver and that can be used by visitors of a particular website to contact employees/agents of the site for assistance and support. The interface of a live chat application is similar to an instant messenger window, and both types of applications can be used to chat. However, that is where the similarities end for all practical purposes. Essentially, live chat software enables you to chat only with agents on the host website, while instant messenger platforms let you message other people who have the same application installed or who are members of the same social-networking site (i.e. Facebook or Google+).
Live Chat History
Not a lot of information is available as to who actually created the very first live chat platform. However, the general consensus is that several companies began developing live chat applications after Jeremie Miller released the open-messaging technology Jabber in 1999. Jabber, now known as XMPP, is a set of protocols that allow messages to be transmitted over the Web. Many chat clients, both the live chat and instant messenger varieties, are based off the protocol. Thus, the confusion between the terms used for both types of technologies. Live chat has been known by many names over the years. For instance, many people still refer to live chat software as "live help," "live support," "web help" or other similar terms. To this day, many people still Google "live chat" to find instant messenger type applications such as Skype or Yahoo Messenger.
Live Chat versus Instant Messengers
As mentioned above, the primary difference between live chat and instant messenger software is the audience you can reach. Live chat lets visitors contact support staff on a specific website, and IM (Instant Messenger) applications let you chat or communicate with other members of a social networking site. Many live chat and instant messenger applications share some similar features, such as messaging and file transfers. However, live chat applications are meant primarily for providing support to anonymous or semi-anonymous website visitors (like helping with problems, providing product information, etc.) On the other hand, people usually use instant messenger applications to chat with others in a contact or friends list (or at the least members on the same social network).
Live Chat Advantages
On the surface, it may appear that instant messenger applications have many advantages over the live chat variety (and if you want to chat with a buddy or friend this is certainly true). However, if you have a website and want your visitors to be able to contact and communicate with you instantly and in real time, live chat is the only way to go. A live chat button sits prominently on your website where a visitor can click and get instant access to you (or one of your agents.) When a visitor clicks a button to send a message, you receive it instantly and are able to respond and "maybe" turn that visitor in to a client or provide valuable support. Better live chat systems notify you of a visitor's arrival on your website – even if they don't click your live chat button. Modern live chat systems support "sensing" technology that instant messenger applications simply don't provide. High-end live chat platforms even let you send messages to visitors automatically without any agent intervention at all. Again, this is something that instant messenger applications simply cannot do.
Requirements for Live Chat
With instant messenger applications such as Skype, Yahoo Messenger and others, you must download and install a program on your phone or computer before you can use it to chat. If you wish to use such applications to provide chat support for your visitors and customers, you might find that many of them do not have the required application or are not members of the same social network. This means some of your customers or website visitors may not be able to reach you. With live chat, though, your visitor or customer does not need to download or install anything. To reach your company using live chat, the visitor needs only to have a Web browser on his/her phone or computer.
Got something to say about "what is live chat"? Share with us in the comment box below.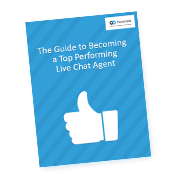 [Free Download] The Guide to Becoming a Top Performing Live Chat Agent
Better communication allows you to help customers set right expectations, which is an essential skill for agents to be top performing. Here we offer 12 essential tips for live chat agents to communicating effectively, addressing customer issues efficiently, and representing your brand professionally.
Download Free