In "Making Proactive Chat Work", Forrester Research found that, "44% of online consumers say that having questions answered by a live person while in the middle of an online purchase is one of the most important features a website can offer."
Chat support is a valuable resource for your website, and the accessibility of its design can make or break a customer's experience.
Does Good Design Really Matter in a Chat Button?
You might think that every chat button is the same—a little window hiding in the corner of the page. Put a friendly stock photo image with a big button, and the user will get the idea, right? Well, not exactly.
Good design applies even to your chat button: it shouldn't stick out or get in the way, and it should give the user a sense of ease. The chat button should be harmonious with the look and feel of the rest of your website.
Comm100 allows you to customize your chat button with your own image and color choice. Many websites now have a matching template of icons for each feature (including chat support), while others use an inviting stock photo image that stands out against a neutral background.
Either way, an effective chat button should be noticeable, but still visually consistent with the rest of page. Comm100 allows you to customize your button the way you want it.
Sticky Versus Fixed
There's actually more diversity in chat button designs than you might think. The sticky image button and fixed image button are two of the most common kinds of chat buttons.
The sticky image button appears as an image that floats on the page at a fixed position as the user scrolls up or down. This keeps the chat button always visible, but it also might obscure some information for the user.
Fixing the chat button to a single area on the web page so that it doesn't follow the user's scrolling, but instead stays in one place, can be very effective if the button is conspicuous enough. It gives the visitor the sense that you're available, but not too pushy.
Choosing the sticky option, however, is great for long pages with lots of information that users have to scroll through. For example, if you have an especially long FAQ page, a visitor can easily ask a question as it arises, instead of having to scroll all the way to the top of the page—by which time they might forget their train of thought and experience frustration.
Location Is Key
You may be tempted to plaster the entire page with your chat button, but you run the risk of annoying your customer. Instead, find a good place on your website where it can stand out. Places where there are white spaces, or near the top or side generally make it easiest for customers to locate.
Color and Size
The color and size of your button are greatly dependent on the color scheme of your website and the fonts you have already chosen. While it's important to consult a web designer for the specific style of your website, there are a few general principles you can abide by to keep your web page harmonious and your chat button clickable:
Choose a color that's already on your website, or a complementary color.
Use a font that you are already using elsewhere on the page, but bold it or make it slightly bigger.
Never make your box too big. If the color and fonts are right, the customer will easily be able to find it.
Staying Subtle
For a less conspicuous presence on your web page, the text link button is another option. A text link button appears as a text hyperlink on your web pages, and visitors can click the text link to initiate a chat. While it's best to make your chat button obvious, organizations with fewer chat representatives may decide to encourage visitors to find information on their own.
What's Your Status?
If you don't have 24/7 support status, it's important to note that the offline message feature is automatically enabled by Comm100. This means that customers can send a message to chat support after hours, allowing them to get a head start on any issue.
Don't forget to list your online hours beneath your chat image—this will bring back customers who prefer the live chat experience.
Using Dedicated Buttons
Comm100 allows you to dedicate a chat button for a specific agent or department. So if your customers regularly seek out specific representatives, include agent headshot in the chat button to create a sense of ease and intimacy. You can even group agents by department. This makes things easier for your clients, and keeps things efficient on your end too.
Multiple Chat Buttons on One Page
You can also place multiple chat buttons on one page. For example, you can have both an image button floating on your web page and a text link button in the top menu of the page. Or, if you set up specific chat buttons for each agent or department, you can place all the buttons on the same page so that your visitors can easily find the right agent for help.
Go Mobile
As more and more people use their mobile devices to browse the Internet, chat windows need to be effective on a variety of screen sizes. Comm100 Live Chat windows adjust automatically in size and layout to fit mobile screens, ensuring that mobile chat support will be fluid and accessible wherever a user might want to use it. The chat buttons also adjust to the size of the screen, staying out of the user's way but still remaining easy to find.
Design and Communication
Effective communication is one of the most important ways to create trust between you and your customers, but the vehicle of communication can often be as important as the content itself. Though it may seem like something small, your company's live chat button holds a surprisingly amount of power. A well designed chat button communicates attention to detail and thoughtful consideration, so don't miss out on this simple but crucial way to enhance communication with your customers.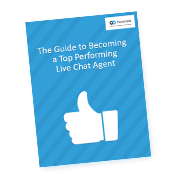 [Free Download] The Guide to Becoming a Top Performing Live Chat Agent
No matter what your customer service channel is, top performing agents always receive high customer satisfaction rate. Here is a practical guide for live chat agents to communicating effectively, addressing customer issues efficiently, and representing your brand professionally.
Download Now