In my last post about live chat etiquette, I have given some common practices in business communication for your reference. While some practices are recognized by most business communicators, there are rules that are still in debate whether or not they should be used in formal settings such as online customer support and work emails. Emoticon is one of them.
Why Emoticons Come in Handy?
Any kind of communication, verbal or textual, contains much more than mere words. It certainly carries the emotional aspect with it.  How the receiver understands the sender's message depends on not only the words, but also the tone of voice, facial expression, and other nonverbal cues. While in business communication via texting, you can see tone and cues are missing. This is where emoticons in business communication come along.
Pros and Cons
Advocators have a bunch of reasons why emoticons should exist. They hold that emoticons can help create emotional connection between communicators from both sides. In other words, they bring the two sides involved closer. During communication via plain text such as chatting online with customers, the message is usually neutral while the tone is absent, which leaves a vacuum for customers to fill in and they are very likely to look at the message in a negative way. Therefore, emoticons are necessary to clarify the tone. For example, the smiley face does make the delay easier to accept in "I will have to check your order information. Could you please hold on for several minutes?
Thanks!"
On the other hand, opponents believe that it is so not professional to use emoticons during a business conversation and it only makes you seem childish. And what's worse, emoticons may offend some of your customers who feel uncomfortable to see such icons during a business conversation and think they are not taken seriously.
Rules to Follow
There are certainly many informal scenarios where you can use emoticons without concern. Usually it happens when you communicate with someone that you have a good acquaintance with, such as your schoolmates or intimate friends. But chatting with or sending emails to your customers who you in most cases don't know well of is another thing. While emoticons are not to be forbidden though, there surely are some rules to follow.
Copy your customers when doing so

When it comes to customer service, customers always matter.  So it is not a good idea to use emoticons before your customers just to avoid offending them somewhere. As you can see from the above, people hold quite different opinions on emoticons.

Do check your message to see whether you are overusing emoticons

If you use emoticons on a daily basis and you can see them at the end of nearly every sentence, then you have to pay attention and try every effort to cut them.

Make sure the emoticons you use are really necessary to make you clear

Emoticons should be used only when necessary, that is, to help the message receivers interpret your message correctly or to make the conversation even friendlier.

Find the emoticon that can best match your tone

Since emoticons are increasingly popular now, people have developed similar responses to emoticons as they do towards real faces. Always bear in mind that the purpose for you to use emoticons is to help clarify your tone when necessary and avoid miscommunication.

Choose only the ones that are recognizable

There are literally hundreds of emoticons available for you to select from.  But most of them are not as commonly used as smiley faces. It will take the message receivers some time if some rarely used emoticons are included. You don't want to risk, do you?

Just follow your industry's etiquette

You can see the difference between bankers and e-commerce retailors in terms of customer services. People come to you for totally different services and in quite different moods perhaps. So be careful and personalized regarding emoticons.
In the context of customer service by live chat, people keep finding ways to make the communication more human, more personal. Emoticons can be a way out. But that is your shot to call. Whether or not emoticons are used in your communication, the bottom line is to make sure that your messages are correctly interpreted by your customers thus reaching good customer satisfaction.
What is your perspective? Leave your comment below and share with us.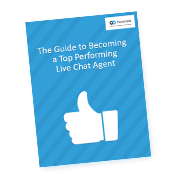 [Free Download] The Guide to Becoming a Top Performing Live Chat Agent
Well-trained agents mean better customer satisfaction. Here we offer 12 essential tips for live chat agents to communicating effectively, addressing customer issues efficiently, and representing your brand professionally.
Download Free