Note: This blog post was originally published on Jul. 7, 2016, and as it is one of our most popular posts, we have updated it to include the latest research, up-to-date statistics and best practices in this topic.
Customer satisfaction is a crucial metric. Knowing how your customers feel about your product, services, and support team is critical to understanding how to grow as a company.
Customer satisfaction surveys can help you yield useful data that otherwise could be hard to quantify. Yet knowing what to ask, and then creating a survey from scratch, can be a daunting task.
We've created a list of essential questions for your customer satisfaction questionnaire in the following categories:
Customer service
Website and navigation
Products and shipping
Customer loyalty
Marketing and research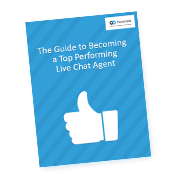 [Free Download] The Guide to Becoming a Top Performing Live Chat Agent
Better communication allows you to help customers set right expectations, which is an essential skill for agents to be top performing. Here we offer 12 essential tips for live chat agents to communicating effectively, addressing customer issues efficiently, and representing your brand professionally.
Download Free
Questions for Customer Service
Customer support is the main touch point between your customer and your company. Making sure that your customers are having an optimal experience with your agents can be just as important as their happiness with your product or service – a good customer support team inspires loyalty and trust.
To understand how crucial the relationship between your customer service team and your customer is, consider these statistics on displeased US consumers from NewVoiceMedia:
42% are put off by rude or unhelpful staff
29% are annoyed by a lack of staff knowledge
32% are fed up of speaking to multiple agents
The following questions can help you assess customer service competency:
Are you satisfied with how your agent handled your inquiry?
Did your agent resolve your issue competently?
Was your solution/answer delivered in a timely manner?
How many agents assisted you today?
Did your agent communicate in a clear manner?
Did you feel confident in your agent's ability to help you?
Overall, did you feel that your agent was knowledgeable about the company/product/policies?
Was your agent professional and courteous?
Did your agent make you feel like a valued customer?
Questions for Website and Navigation
If someone told you your website or web presence was compromised in any way, wouldn't your first order of business be to fix it?
Unfortunately, what your site lacks may be invisible to you and your staff. Even if your site is fully functional, something may be keeping your visitors from navigating it with ease, which leads them to stumble confused through FAQs, or to abandon items in their cart.
The following will help you assess whether or not your online platform is up to par:
Was the website easy to navigate?
Were you able to find the support/information you needed easily?
Did the website load efficiently?
Were you able to locate products/services/information without assistance?
Do you find that the X feature is easy to use?
Questions for Products and Shipping
Your product is the bread and butter of your business. If your customer isn't enjoying your product, or isn't receiving it in the best way possible, the long-term success of your company could be in jeopardy.
And customer expectations surrounding shipment are growing: 38% of European shoppers expect that their shipment will arrive the next day.
The questions below are important to add to your survey if you're testing a new product or shipment option, or just want general feedback:
Are you happy with your shipping options? If not, what type of shipping could we offer to enhance your shopping experience?
Did the product arrive on time?
Did the product meet your expectations?
Did the photograph of the product on our website accurately represent what you received?
Did the description of the product on our website accurately represent what you received?
Did you receive the correct product?
Is using product/service X simple? If not, what are you having trouble with?
Questions for Customer Loyalty
Although you can try to determine customer loyalty based off of customer retention rates, customer loyalty is truly a different concept.
And isn't defaulting to your services until they find a better offer. (Read more on retention strategies for long-term customer loyalty.)
The questions below will help establish how your customers truly feel about doing business with you, now and in the future:
Would you recommend our services/products to a friend? If not, why?
Will you use our services/products to meet your X needs in the future?
Will you buy more/similar products from our company?
Do you identify as a loyal customer of our brand?
Would you like to receive information regarding our new releases/future sales?
Questions for Marketing and Community Outreach
Although it's easy to overlook, knowing how your customers found you gives you knowledge of how to best attract customers in the future.
Though your marketing team puts a lot of effort into getting your name out there, sometimes visitors find your brand through channels you didn't even know existed.
Perhaps a customer found a review of your product on a blog you didn't know about, or received a recommendation from a well-known industry leader. In this case, knowledge truly is power.
Use the following to strengthen your understanding of what's bringing customers to your door:
Where did you learn about our services/products? Would you consider that source to be a trusted and reliable resource?
Would you consider speaking to one of our agents for X minutes about how we can improve our products/services?
Are you following us on social media? If so, which platforms do you follow us on?
Are you a subscriber to our email newsletter?
Do you regularly read our blog?
When crafting a survey, it's important not to overwhelm customers with too many questions at once. And if you have adopted live chat as a customer support channel, one of our blog post will provide you with more best practices to design your post-chat survey to gather customer satisfaction information.
Use the customer satisfaction survey examples above to create a cohesive survey that reflects your company's unique services and target demographics; with a little work, you'll create a balanced set of questions that will reveal crucial areas for improvement.
[Free Download] Live Chat Benchmark Report 2017
Since live chat can benefit your business in so many ways, you probably are considering adding live chat to your website. But before making the final decision, you can refer to our latest live chat benchmark report based on millions of chat interactions from companies all around the globe. In addtion to benchmark data, you can also get suggestions from top customer service experts.
Download Now