Your customer retention is super important to your bottom line—after all, customer loyalty is well-known for being more valuable than customer acquisition. But 68% of consumers will not go back to a provider once they've left, and 80% of them believe the company could have done more to retain their business in the first place.
With stakes this high, it's essential that you build a solid customer retention plan that can lead to long-term customer loyalty.
Building strong relationships with your customers to keep them hooked for the long-term is the best way to combat customer dissatisfaction in a competitive marketplace. For this reason, we've compiled a list of 15 customer retention strategies that can ease your pain and help you develop reliable, long-term customer loyalty.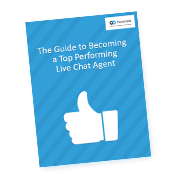 [Free Download] The Guide to Becoming a Top Performing Live Chat Agent
Quality customer service is essential to your long-term customer loyalty. This eBook contains 12 essential tips for live chat agents to communicating effectively, addressing customer issues efficiently, and representing your brand professionally.
Download Free
Relationship Marketing Strategies
Relationship Marketing, an aspect of Customer Relationship Management (CRM), is the term used to describe the focus on the customer's experience over boosting short-term metrics like acquisition and sales.
A focus on Relationship Marketing will allow you to inform your visitors about your products, services, and offerings, and bring them closer to consistent engagement. Using good Relationship Marketing strategies will also help solidify their trust in you as an industry leader. Use the following Relationship Marketing strategies to bring your customers one step closer to the lifelong loyalty you're seeking.
1. Enhance your blog
A good blog communicates to customers that you care about solving the problems in their industry. A healthy blog not only brings in new eyeballs, but it also enables you to build a reputation as a dependable and knowledgeable provider.
To enhance your blog (or to get started), fill it with posts containing hot tips and relevant industry information. Providing your customers with relevant content will not only help them succeed with your products, but will also keep them coming back for more wisdom and guidance.
By the way: Don't forget to update your current customers on your latest post! Newsletters, texts, and social media updates can help keep inform your customers about your latest blog posts.
2. Increase your social media presence
Facebook, Twitter, and LinkedIn combined have close to 2 billion monthly active users—for this reason, your company would do well to have a solid social media presence.
With such a high number of active users, increasing and enhancing your presence will allow you to develop another line of communication with your customers—one that can fit right in their pockets. Work with your social media team to launch new campaigns, or to increase engagement with current customers.
3. Create educational and training materials
Whether or not you keep your customers depends upon how much value they get out of your products or services. But how can your customers get value out of your offerings if they don't know how to properly use them?
To solve this common issue, you can create free educational and training materials for your customers; this can increase their engagement with your services and produce loyalty as a result. Try creating materials like:
Seminars/Webinars
eBooks
Special Reports
White Papers
Newsletters
Courses
4. Give customers one-on-one attention
If your company has the resources, sometimes offering customers one-on-one attention with an agent can help establish a strong connection that might inspire a customer to stick around.
Morton's Steakhouse did just that when PR and marketing professional Peter Shankman jokingly tweeted at them asking for a steak.
Morton's met him at the airport with a steak, shrimp, bread and silverware. The story itself is enough to spark appreciation in more casual customers, who otherwise may have churned. Though you might not be able to make lavish trips to the airport to greet your customers, some individual attention can go a long way in raising customer retention rates.
Branding and Design Techniques
How a company's image and mission is portrayed is important—not just for acquiring customers, but for keeping them engaged. The following techniques will help your company stand out, heightening the chance that customers will continue to buy your products—even when flashy competitor ads come calling.
5. Have excellent website design
A comprehensive and attractive web presence is crucial for high customer retention. Not only does your website need to display a brand that your customers know and trust, but it also needs to be designed to capture visitor data and contact information.
Additionally, your website should be optimized for SEO and content marketing purposes. This way, even when your customers stray to a search engine for help, your website's reach will pull them right back in.
6. Make customer service channels easy to reach and use
It's important that the design of live chat buttons, and visibility of "Contact Us" tabs or pages are immediately obvious to visitors. Customers should be able to locate this information no matter which page of your website they are on.
Be aware of where contact and support information is located when your company executes a website or Internet platform redesign—you don't want a new look to compromise usability!
7. Continuously convey your value
It's over 20 years later, and Apple's iconic 1984 commercial is just as relevant as it was decades ago. Customers like to feel like unique individuals, and want companies that cater to their tastes and identities (not just their obvious, basic needs).
Use your marketing campaigns to make sure that you are not only reaching new customers, but enhancing your relationship with current ones for increased retention. To do this, make sure that you're communicating a consistent brand that truly speaks to your customers' values. Interview your most loyal customers, and encourage anyone who reaches out to customer service to take surveys. Mapping out your customer journey can also help you identify what aspects of your brand speak most clearly to current customers.
Loyalty Programs
Customers love being rewarded for spending with you—it confirms that you prefer their specific business to the extra dollar you might otherwise earn. For this reason, excellent customer loyalty programs can do wonders for your customer retention plan. Whether you've started a loyalty program, or are considering one for the first time, the following tactics will make your customers fall head over heels.
8. Offer special rewards and deals
We all like to feel special, so it's important deals you offer your customers in the loyalty program are unique and separate from what you offer the general public.
For example, if you are doing a site-wide sale on jeans, why not offer an additional discount to reward loyalty members? Or offer them a discount on shirts that are popularly matched with the jeans in question—either way, be sure to point out that the special rewards are exclusively for members of your customer loyalty program. They'll certainly appreciate the special treatment.
9. Make loyalty programs simple and easy
Either use a simple point system or none at all. Complicated figures, and convoluted combinations with your other offers will turn customers off to joining your loyalty plan to begin with. Using radically different point values for a large range of different activities can be confusing, and feel more like punishment than a reward.
Instead, limit the number of purchases and activities you dole out points for. Keep the amount simple and the reward levels clear and easy to explain—your customers will thank you by sticking around longer.
10. Consider tiered benefits or a VIP option
It's no secret that exclusivity drives purchasing decisions—as mentioned before, consumers like to feel like unique individuals. Rewarding your most loyal and active customers will make them feel important, and it's critical to enhance retention with the customers that are worth most to your company.
Create an extra tier or VIP segment in your customer loyalty program in order to retain a special group of high-spending customers.
11. Offer non-monetary rewards
Most businesses offer discounts in their loyalty programs…including your competitors. To find a unique angle for your loyalty program, reward customers in a way that speaks to their values, not just their wallets. This will help you stand out from the pack, and show customers that your company understands their true needs.
Offer your customers unique, non-monetary rewards that will keep them coming back for more. You can offer customers in your loyalty program:
Alternative payment options
Enhanced features and support options
Access to beta releases
Special workshops and events
Advance communications and notices
For more tactics, read our blog post: 5 Awesome Customer Loyalty Program Ideas You Should Try.
Support Team Tactics
Your customer service team is the main point of contact for the majority of your customers. As the face of your organization, they either lay the foundation for a strong retention culture, or drive customers away for good. The best management can do to help their team create the ideal conditions for customer loyalty is to provide the following.
12. Use a multi-channel approach
52% of U.S. consumers switch service providers due to poor service. Yet sometimes, poor service can be fixed by simply providing customers with access to the channel of their choice. If your current customer service strategy is lacking in live chat, phone, or email channels, it's time you integrate them into a support system that will appeal to a large range of demographics and needs.
13. Improve agent communication skills
Whether it is through writing lessons or group exercises, encouraging agents to practice writing and speaking will do wonders to help strengthen your team's communication skills. Have your agents engage in group activities and respond to writing prompts to improve their communication chops.
14. Re-train your team
Good onboard training is crucial to developing healthy customer relationships, and continuous support training will help your agents forge better long-term relationships with your customers. Luckily, there are plenty of free and economical options to help your team make the most of the resources at their disposal. Sign up and join our free customer service training course.
15. Proactively reach out to loyal customers
Imagine the number of times a customer has simply walked away because he/she couldn't find the information or support needed. If your competitors make this easier, then your retention rate is on the line.
When trying to increase retention, come up with a proactive support strategy. You can even target the customers with higher spending habits, increasing the opportunity for long-term loyalty.
What retention strategies have helped you develop meaningful customer relationships? Are there any on this list you're excited to try out?
[Free Download] 50 Customer Service Training Activities for Live Chat and Telephone Teams
A professional and effective support team is helpful to customer loyalty. The activities in this eBook can be great training materials to help your support agents chat professionally with customers. Each activity focuses on a particular area of learning and comes with suggested debriefs. This helps your team link activities to learning and apply the learning to the workplace.
Download Now