We all know customer loyalty is the driving engine for a flourishing business. But what is customer loyalty, actually? Customer loyalty is having customers who are committed your company and your products, not just a price point that a competitor can easily emulate.
But customer loyalty goes two ways, and first you have to prove your loyalty before expecting to receive any in return. So what's the best, most direct way to show customers your commitment, and inspire loyalty in return? A solid customer loyalty program.
If you want to build the loyalty program your customers deserve, this post will give you customer loyalty program ideas to turn everyday shoppers into loyal fans.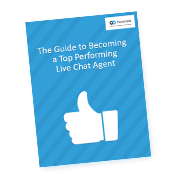 [Free Download] The Guide to Becoming a Top Performing Live Chat Agent
In addition to using the tips this blog post has mentioned, excellent customer service agents can also effectively turn everyday shoppers into loyal fans. Here is a practical guide for live chat agents to communicating effectively, addressing customer issues efficiently, and representing your brand professionally.
Download Free
Use the Endowed Progress Effect
Did you know that something as simple as giving customers a head start on your rewards program can inspire loyalty?
In a study conducted by researchers Joseph Nunes and Xavier Drèze, 300 people were given loyalty cards for a local car wash with the understanding that each time they returned they were to be given a stamp on their cards. Once a participant's card was completed, he or she was offered a free car wash.
There were two groups in this study. The first group needed eight stamps before they completed the card. The second group received a card with 10 slots, but two were already stamped—so they received a head start.
Since both groups needed to receive eight stamps to complete their card and receive a free car wash, you might assume that the results were similar. But the second group actually had a 34% completion rate (the head start group), while the second group only had a 19% completion rate.
So what does this mean for your loyalty program? That giving customers even just the illusion of a head start can motivate them to complete loyalty program goals.
If you're still unclear on how to move forward, we've outlined three basic steps for you:
Provide a goal

Your loyalty program should have a clear goal. Is there a big discount a customer can receive? A free item? Store credit? You can even use this incentive to inspire loyalty program sign-ups.

Set a clear path to that goal

Your loyalty program should have delineated milestones toward the ultimate goal. Is it filling out stamps on a card with each qualifying purchase? Or maybe it's sharing a tweet on social media to receive points. Whatever it is, express it clearly and then commit to it.

Give new customers a head start toward that goal

Give customers a head start when they sign-up. This means giving them credit toward their goal before they even act—whether that be a stamp on a card or points in an account. Don't let them start from zero.
[Free Training] Live Chat & Customer Service Certification
This free training features up-to-date customer service best practices, to help you boost your skills and become a true customer service professional.
Sign up Free
Create an Exclusive Tier for Your High-Spenders
The real point of any loyalty program is to get people hooked on your brand, turning your average customer into a loyal fan. After all, customers buy your products; fans go out and try to convert their friends and family to your brand.
The cosmetic giant Sephora has a very successful loyalty program that has created an army of devout beauty fans. Their loyalty program, Beauty Insider, has tiers of membership that can help beauty fans unlock exclusive products, sales, shopping events, and free shipping.
Source: Sephora.com
Starbucks is also known for its popular rewards program. When members make a purchase and pay for it with the Starbucks app on their phones, they receive points toward a free drink or qualifying food item. Starbucks has a simple, two-level system to reward their most loyal customers: Green Level and Gold Level.
The Starbucks Green Level gives customers an extra incentive to sign-up and keep spending. Plus, the convenient pay by phone feature is what really draws people in by securing purchases in advance (those using the Starbucks loyalty program are pre-loading money into their accounts to make these purchases).
The Gold Level is for those who have earned over 300+ Stars—AKA the big spenders. They receive a personalized Gold Card, receive rewards faster, and even have days where they earn twice as many stars for a purchase.
If you're still a little skeptical about whether all this effort is worth it, check out these tweets from excited Starbucks and Sephora Customers:
Rewarding your superstar customers can really motivate them to act like fans and spread the word, planting the seed for future converts.
Use Customer Data to Enhance Your Loyalty Program
Sephora isn't just winning with loyalty tiers; the beauty giant uses data from their loyalty program to innovate the customer experience. With this data, they can see purchases across multiple platforms, as well as understand an individual cosmetic needs based off of things like past purchases and skin type.
Director of product analytics and optimization, Angel Singh, explains the purpose of data harvesting from Sephora's loyalty program:
"When you go into a store, there are a lot of products and you don't necessarily know which product is right for you. [Shoppers] want it to be less confusing and they want some help in that regard."
Though you may not have an app for your loyalty program, you can track purchases and have your sales agents recommend cross-sells based off of that data. When a customer feels like you intimately know their needs, they're more likely to participate in your loyalty program for the long-term.
Don't Accidently Punish Your Customers
Is your customer loyalty program focused on enhancing the customer experience? Or are you accidently punishing your most loyal customers? Although we discussed the benefits of tiers, there's a dark side if exclusive levels demand more loyalty than they're giving back—customers can feel jaded and undervalued, and may turn to a competitor for life.
In his blog post, customer service expert Shep Hyken describes his feelings regarding a particular airline that he frequently flies with. Hyken explains that many of his friends have lost their elite status with this airline after retiring, even though they remain loyal to the company. Hyken even has one friend who lost his elite status only after a few months of reduced flying because he was sick.
It makes you wonder, is it really fair to punish your customers?
You don't cut a good friend out of your life if you haven't seen them in a while. You simply pick up the phone and check in to see how they are. It's important to recognize that like any relationship, there will be periods of greater and lesser interaction. A customer loyalty program that focuses on the customer experience considers the long-term potential with each existing customer.
Ask yourself the following questions to make sure you aren't disappointing loyal customers:
Does our loyalty program punish customers for lowered engagement?
Are there punitive actions we didn't consider, such as downgrades?
How can we let VIP customers know we're thinking about them, especially when engagement is down?
Make Your Loyalty Program Fit with a Greater Relationship Marketing Plan
Many companies offer some sort of loyalty program, including your competitors. Though anyone can offer a reward, not anyone can offer a great relationship.
This is where relationship marketing comes into play. Relationship marketing is the practice of creating initiatives that focus on long-term engagement as opposed to acquisition or sales. This means things like having an engaging blog, helpful tutorials, detailed customer accounts, and even an exceptional customer loyalty program.
Though your loyalty program should not be used as a marketing channel, it should be a part of a greater, relationship marketing plan. This puts the focus on maintaining customers through solid relationship building, not advertising to new customers.
So you might be wondering, how can I be sure that my loyalty program works with other initiatives to foster long-term engagement?
Let's say you offer customers a free webinar. On its own this is a solid relationship marketing effort. But you could also tie in your customer loyalty program to enhance the initiative. For example, if you give them points for signing up for the webinar, you give them and added incentive to increase the value of their relationship with you. You also make them feel appreciated, and communicate your investment in their success with your product.
A good loyalty program is about more than just offering customers a few rewards now and again. By really thinking about how your loyalty program can serve the customer experience and strengthen your relationships, you can increase your chances of creating strong loyalty with existing customers. How do you hope to enhance your customer loyalty program?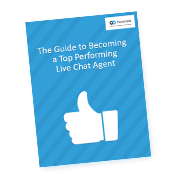 [Free Download] The Guide to Becoming a Top Performing Live Chat Agent
In addition to using the tips this blog post has mentioned, excellent customer service agents can also effectively turn everyday shoppers into loyal fans. Here is a practical guide for live chat agents to communicating effectively, addressing customer issues efficiently, and representing your brand professionally.
Download Free