In a world where customer loyalty is on the decline, customer service professionals have to think of new and innovative ways to create a lasting bond with customers.
According to research conducted by Verint Systems Inc., on average only 60% of respondents have been with their current service provider for over three years (this is a decrease from 85% in a similar 2012 study). This list of providers includes such essentials as grocery stores, utilities, insurance companies, banks or credit-card companies.
This means 40% of respondents have not made it for three years with essential service providers—institutions that are fundamental to most people's daily existence like grocery stores and banks! But the concept of customer loyalty isn't lost, it just needs to be reimagined. The bottom line is that customers want companies to show loyalty to them, not the other way around.
But as competition increases across all sectors, how can you show your dedication to a customer and come off as authentic?
The answer? By hosting a Customer Appreciation Day.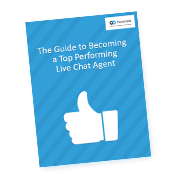 [Free Download] The Guide to Becoming a Top Performing Live Chat Agent
Showing your gratitude to your customers can help to enhance customer satisfaction. Here we offer 12 essential tips for live chat agents to communicating effectively, addressing customer issues efficiently, and representing your brand professionally.
Download Free
What Is Customer Appreciation Day?
Customer Appreciation Day is an excuse to celebrate your customers and show them what they mean to you. Since this is your event, the holiday can be whatever you make of it. It can be a huge deal with unique graphic design, logos, and giveaways, or it can be a low key affair filled with heartfelt emails and personal mentions on social media.
Ultimately, a Customer Appreciation Day is an opportunity for your company to choose a date to express gratitude to your customer base. With all the ads, spam, and solicitations consumers have to go throw on a daily basis, you have an opportunity to stand out by giving them something instead of asking them for something.
So, like a birthday or anniversary, why not pick a date and celebrate it with your customers every year?
If you're on board, here are some customer appreciation ideas to get your holiday planning started.
Send a Thank You Card
"Showing gratitude is one of the simplest yet most powerful things human beings can do for each other…I think that thank-you notes are best done the old-fashioned way, with pen and paper."
– Randy Pausch, The Last Lecture
In a world where email and text reign supreme, the mailed note has taken a backseat. It would seem that anything that takes too much effort is no longer celebrated, since that would be the antithesis to efficiency (which, let's face it, is everybody's favorite buzzword).
Yet sending a simple thank you card can do wonders to show gratitude, as people are aware that it takes a lot more effort to send a card than a tweet. A writer over at the Shopify blog wrote about an experience he had where he bought a shirt at Brooks Brothers. The sales associate, Garth, was an incredibly attentive salesman, who helped him with all the details of his new purchase. To the writer's surprise, he received this thoughtful, handwritten note in the mail several weeks later. It was something so small, but entirely memorable and delightful to the author.
The following are keys to a successful thank you card:
Avoid being generic. Address the customer by name, maybe even mention their purchase or ask them how a family member is. Remember: don't let your most prized customers feel undervalued.
Save thank you cards for the most frequent customers. Another way to ensure that customers feel special is to acknowledge that they truly are. Save cards for your most frequent customers, or those who are a part of your loyalty program.
Have agents who know your customers write the cards. Have agents (or sales representatives, or managers) who know customers the best to write the notes. This way, agents can include specific references to their purchases or home life that make a customer feel remembered.
Make Promotions Personal
Sales and promotions can be a dime a dozen. As Timi Garai writes on the Ecommerce Loyalty Marketing Blog:
"Many companies fail to achieve customer loyalty, because they offer the same discounts as everybody else, and nothing else. Boring."
But there is a secret way to making promotions personal. As Garai continues to point out, loyalty comes out of creating a program that deals out personalized offers, surprises, exclusive pre-order abilities, and special treatment.
This is the difference between an effective loyalty program and random sales. Create promotions that reward customers for their loyalty, and make them feel truly special. Use this program all year round, and offer an extra special promotion on Customer Appreciation Day to remind them why they shop with you. Try loyalty promotions for your Customer Appreciation Day like:
Percent off of total purchase. Invite customers who are a part of your loyalty program to take off a certain percentage off their total purchase on customer appreciation day. Be sure to promote it in advance so customers have time to plan their purchases.
Double the loyalty points. If your loyalty program offers points or cash back, double their earnings on customer appreciation.
BOGO (Buy One Get One Free). Give loyal customers the opportunity to buy something and then get something of equal or lesser value for free. If that's too much, consider a buy one get one half off sale.
Extra loyalty points. If you really want to impress customers on customer appreciation day, give them loyalty or reward points simply for being a loyal customer. Now that's an email every customer wants to read!
And don't forget, if you don't have a customer loyalty plan, your Customer Appreciation Day is the perfect time to launch one.
Plan a Digital Event
If you are short on Customer Appreciation Day event ideas, consider hosting a digital event. What this entails is picking a date (in this case, your Customer Appreciation Day), and doing the following through social media:
Trivia – Ask a question that pertain to either popular events (for example, if it's in early January you could ask questions pertaining to the Super Bowl), or related to the industry you work in (if you sell women's clothes to young fashion lovers you could ask questions about famous designers). The key here is to make sure your trivia questions revolve around topics your key demographic cares about.
Entertaining media – Post funny videos and create fun memes. Collect and create things beforehand that are especially shareable and engaging.
Giveaways – Stagger out giveaways and periodically let people know when the next set of prizes will be given out. You can tie these giveaways to trivia, or use a random generator like rafflecopter.
Create a unique video – Consider producing a customer appreciation video. In a similar vein to Google Doodles, you can create value at the same time you say thank you. Use your in-house staff or splurge for a freelancer to make a fun animation or flash video. You can send it out in an email campaign, and even link it to your Youtube or Vimeo account (this way the video can act as content marketing in addition to strengthening your relationship with current customers).
You can even throw a Facebook party or even hold a Twitter Chat if you don't want to plan this event across several social media platforms. Whether you plan a platform specific event or a more general digital party, use the following tips to create an effective social media marketing campaign to promote your event:
Post your sincerest message of gratitude on all your social media sites, creating a unique hashtag for the event.
Create a few memes and graphics showing your appreciation with your logo in the corner.
Randomly select customers that follow you on social media and write them nice, publically available message thanking them for their business and asking them personally to come to your digital event.
Send a Small Token of Appreciation with Each Order
The popularity of subscription boxes in recent years proves that small trinkets can make a huge difference in a consumer's happiness. As Fast Company writer, Elizabeth Segran, writes, "The monthly subscription box is all about bringing back that element of discovery and surprise."
If you run an ecommerce business, send little coupons, stickers, or extras that can be packaged with orders on your Customer Appreciation Day. Swag ideas can run the gamut from:
Hats
Stickers
Pens
Lip balm
Keychains
Drawstring backpacks
If you are selling software or digital products, you can still send an accompanying email with coupons or rebates, thanking customers and announcing Customer Appreciation Day! They will remember this gesture, and regard it as a genuine expression of client appreciation.
Conclusion
The point of Customer Appreciation Day is to put a smile on your customers' faces. It will give them a reason to think about you later, and will forge a stronger bond between you and them. But you shouldn't forget that every day is Customer Appreciation Day, and that means showing your gratitude every chance you get.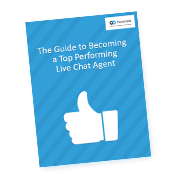 [Free Download] The Guide to Becoming a Top Performing Live Chat Agent
Showing your gratitude to your customers can help to enhance customer satisfaction. Here we offer 12 essential tips for live chat agents to communicating effectively, addressing customer issues efficiently, and representing your brand professionally.
Download Free