Emails are a vital part of every customer service force. Whether helping a customer through a support issue, or shooting off an update to a team member, email ends up being an integral part of communication for many professionals.
But with the high number of emails that you have to deal with daily, the race to inbox zero can leave you feeling overwhelmed. There is, however, a way you can manage your inbox and save yourself time at the same time: by improving your email writing skills.
We've laid out some email writing tips to help you optimize the quality of your daily communications. Note that these steps may also produce the side effects of maximizing your time and bettering your professional and customer relationships.
Know Your Audience
A simple, but important writing principle, is to know your audience. Who you are writing to makes a huge difference when it comes to how you end up writing a business email.
Is it a customer? If so, ask yourself, how old is the customer? How long have they been with your company? Are they familiar with your products and services, or will they need extra hand-holding? When writing an email to a customer, it's important to explain products, services, and terms and conditions in detail. How formal you are will depend on your established brand, but in general it is best to remain formal and friendly with customers. However, you don't want to be too formal, because stuffy business language can confuse a customer and create more communication barriers. Use short sentences with no more than two clauses, and beware of using passive tense.


Is it an internal contact? How familiar are you with him/her? Is he/she a co-worker or a superior? Is he/she part of your team or another department? Are you addressing a new or familiar issue? If you're working with someone from another department, or working with someone on a new task, stay formal and detailed. If this is an ongoing conversation with a familiar co-worker, firing off a fast email can help you save time without cutting corners.
Knowing your audience and the purpose of your email will help you send a focused, professional email that effectively meets the needs of the person that you are communicating with. It will also help you set the appropriate tone that will leave the right impression on the person that you are emailing.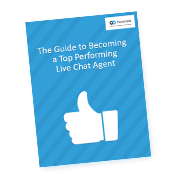 [Free Download] The Guide to Becoming a Top Performing Live Chat Agent
No matter what your customer service channel is, customer engagement requires both patience and effectiveness. Here is a practical guide for live chat agents to communicating effectively, addressing customer issues efficiently, and representing your brand professionally.
Download Free
Take a Little Extra Time
Taking extra time can keep you from having to play the painful back and forth email game. Brian Sun at the Autopilot Blog shows us just how long some of these chains can be when he's trying to pique guest blogging interest:
To put this idea into action, there may be instances where it is advantageous to write a longer email. A longer email is a better option whenever you feel called upon to explain something in-depth. This might happen when you need to relay specific instructions to a team member (the more information you give them, the better a job they can do on the task!). Another time a long email may be warranted is when you are explaining what a customer needs to do step-by-step.
Let's go with the latter example. You receive an email from a customer saying that they are trying to make a purchase on your website but can't figure out how to enter the coupon code. In this case, it is better to give them step-by-step instructions on how to enter the coupon code than to just assume they'll interpret an "easier," vaguer response.
In this case you would make sure that you include important details in your reply, like:
At what point in the check-out process they can input the coupon code
Where to find the appropriate field for the code (Be descriptive, even if this is easy to find
A screen shot with an arrow pointing to what your customer is looking for
Hi Judy!
I'm sorry that you are having trouble using your coupon code. Unfortunately, it seems that the code that you are trying to use is an expired code from last month.
I've checked our website for you, and found a coupon that is pretty close to the one that you were trying to use. The code is ACT2017 and is for 30% off one item. Here is the link to the page where you can find this and any other active discounts: [INSERT LINK].
When you are ready to checkout, insert your code in the field beneath the percent sign in the green shopping bag icon. The icon and corresponding field will appear on the bottom right of the checkout page after you submit your payment information.
We will also be sending out an email with our New Year's promotions soon, so keep an eye out for that! Please let me know if there is anything else that I can help you with.
Have a great day,
Mark D.
Customer Support
Even when it comes to the little things, taking some extra time on your emails can make a huge difference. We all know how terrible it is to waste dozens of emails on a simple issue. If you want to help a customer resolve an issue without drowning your inbox, it is important to make your point clear, and to anticipate as many related issues and information as possible. This eliminates the possibility of you having an exchange like this:
Hi,
I placed an order but I think I put in the wrong shipping address. Can you please help me change it?
Tom
Hi Tom!
I'd be happy to help you! Can I have your account number or order number please?
Sincerely,
Chris
Hi Chris,
My order number is 30003928271.
Tom
Hi Tom!
Thanks for the information! Can I please have the address that you want to ship this to?
Sincerely,
Chris
By asking multiple questions upfront, you help the customer give you all the information that you need right away, instead of creating a drawn-out exchange that you need to keep coming back to. In situations such as this one, try writing a response more like this:
Hi Tom!
I can absolutely help you with that. Can you please provide me with the following information so I can better assist you:
Your account or order number (you can find your order number in the confirmation email if you don't know your account number)
The updated address that you would like us to ship your item to.
As soon as I have this information, I'll be able to change the address for you.
Sincerely,
Chris
See how in this response, Chris organizes his questions so that he can get the information he needs to help Tom as quickly as possible. Creating a faster resolution time means that the customer is happier with your service, and your inbox will have less emails for you to battle through.
When you take the time to do a good job of teaching a customer something new about your site or product, they will be able to implement what they have learned themselves next time, without reaching out for help. Then you can enjoy some well-earned space in your inbox!
Structure Your Emails Appropriately
The principles of good content can apply to a good email. This means including links and bullet points that can help guide the eye through the content. This also means proper spelling and punctuation, even if you don't write everything in formal sentences.
Good email content includes the following:
A relevant heading that reflects the subject of the email.
A personalized greeting (you know their name, use it!).
A body that is clear, direct, and to the point (avoid any sort of ambiguity).
A body that, if written as a reply, addresses all items brought up by the email that you are responding to.
A sign-off with your name and position at the bottom (save time by creating a "signature" and inserting it at the end of your email!)
An overall friendly, approachable tone (you want to be professional, but without sounding like a robot or being too overly formal—people like talking to people!)
Wording that is polite and positive, even if you have to decline a request.
Let's compare an email that doesn't follow these principles with one that does:
Hi Jim,
I received your feedback. I forwarded it to a more relevant person in our company. I can't tell you when our next product release is, as it is our policy. Let me know if you have another question.
Ashiva Schumer
Customer Support
As you can probably already tell, the email above does nothing to help Jim navigate his issue. The sentences are also short and curt, which creates an abrasive tone. The email could be enhanced with more structure, gratitude, and general helpfulness, like in this example:
Hi Jim,
Thanks for contacting us about your experience. We really appreciate receiving information that can help us deliver extraordinary service! I have just forwarded your feedback to the head of our department.
In regards to our next product release, we will be announcing the date tomorrow on our blog, as well as on our email newsletter. I went ahead and checked our newsletter subscriber list and found your email on it. So you can expect to have an answer in your inbox tomorrow.
Please let me know if there is any way I can assist you further, and have a great rest of your day!
Best regards,
Ashiva Schumer
Customer Support
With a response like this, Jim can know that his feedback will be taken into consideration, and has a clear understanding of when and how he will receive an answer to his question.
Use Canned Phrases and Sentences
Unique circumstances often require individual responses. But most emails can use a repeat line or two, like in the greeting or closer. This is where canned phrases and statements can come in handy. For this reason, saving and reusing handy phrases can help you save time and express yourself clearly. Here are some ways that you can go about recycling your star email-writing moments:
Flag specific well-written responses of yours so that you can go back and reference them, or use select parts when appropriate.
Create a word document of great lines and responses that you reuse time and time again. Make sure that this document is well organized, so that you don't lose time looking for your response. This technique is perfect for those longer responses, such as the ones that we discussed in the step, "Take a little extra time."
Study your company's canned email responses for choice lines and statements.
Use an app like Text Expander to create short-cuts for commonly used lines, this way you can write emails with just a few strokes.
If you are going to reuse your best phrases, another VERY IMPORTANT tip is to make sure that you reread the email before sending it out. The last thing you want to do is to send a customer an email with someone else's name on it, or with a space that says [INSERT HERE] instead of the link that they were looking for. This may evoke an upset response, and will not save you any time.
Recommended for you: 120+ Ready-to-Use Live Chat Scripts for Both Sales and Customer Service
Conclusion
Even though rushing through your emails may seem like the way to go to get things done faster, taking the time to write better emails can save you from having to draft dozens of extra emails to clarify a point. We hope the tips above can help you enhance your business email writing skills, and get more done with less effort.
What do you do to make sure your business emails are effective and helpful, as opposed to unmarked spam?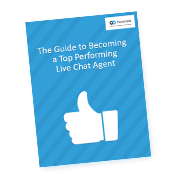 [Free Download] The Guide to Becoming a Top Performing Live Chat Agent
No matter what your customer service channel is, customer engagement requires both patience and effectiveness. Here is a practical guide for live chat agents to communicating effectively, addressing customer issues efficiently, and representing your brand professionally.
Download Free